ROBINSONS MALLS
As economic activity increased and operations normalized in 2022, Robinsons Malls focused on innovating mall experiences to become the country's favorite lifestyle destination. It introduced fresh retail and dining concepts, launched exciting events and attractions, and promoted sustainability across its malls nationwide.
DINING & SHOPPING REINVENTED
Robinsons Malls transformed its lifestyle centers into a melting pot of gastronomic choices as it welcomed a diverse mix of casual and quick-service restaurants. Robinsons La Union, in particular, which was launched in the latter part of 2021, immediately became a foodie's haven with the opening of Mary Grace, Sea Shack, and BreadTalk, among others. Similarly, the recently expanded Robinsons Antipolo turned into a hotspot for families with its wider selection of popular food establishments, such as Ramen Nagi, Dairy Queen, and Classic Savory. Meanwhile, Robinsons Magnolia attracted more loyal and first-time diners with its eclectic lineup of new restaurants serving international and local cuisine. These include Texas Roadhouse, Modern Shang, Randy's Donuts, and Manam, as well as well-curated regional dishes at the Public Eatery food hall.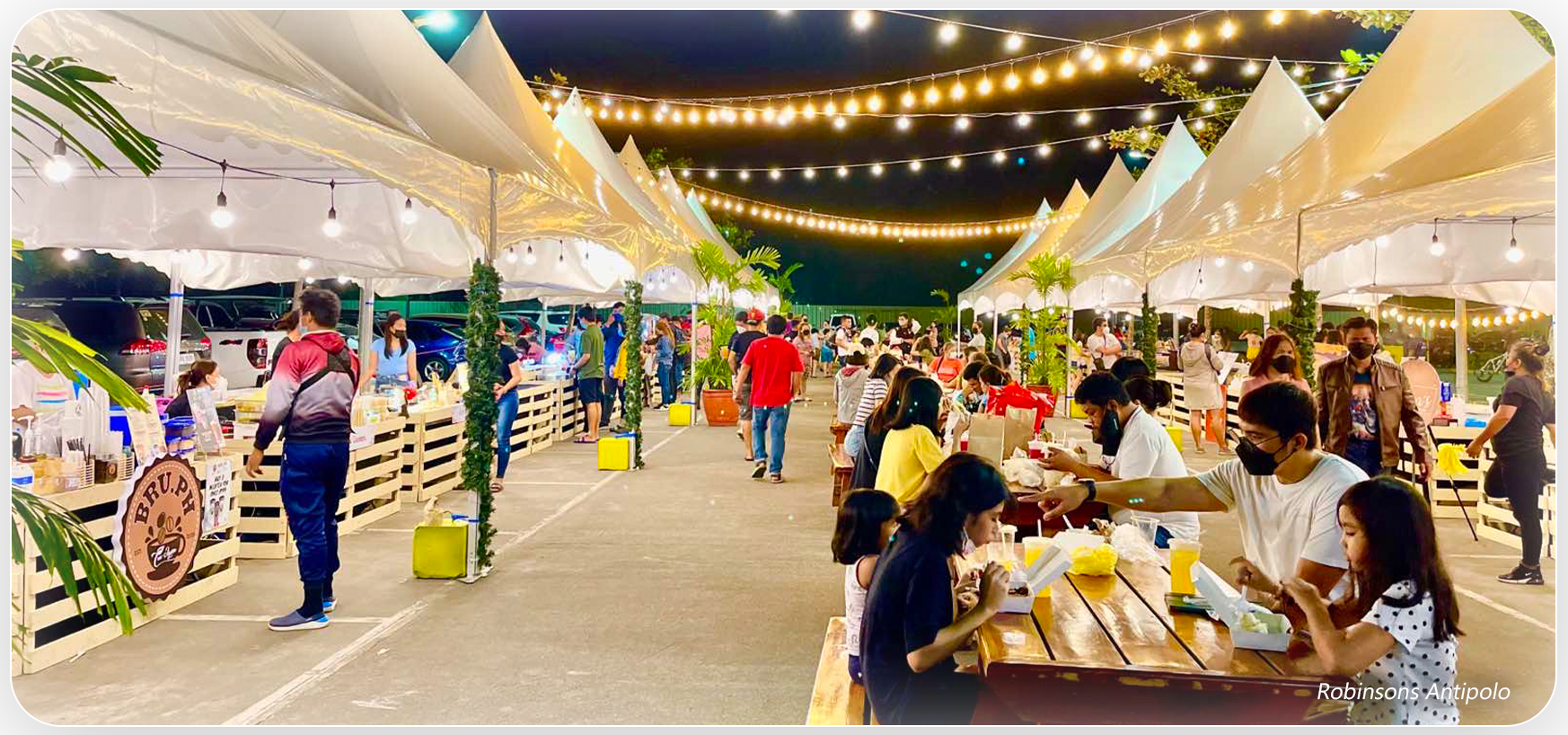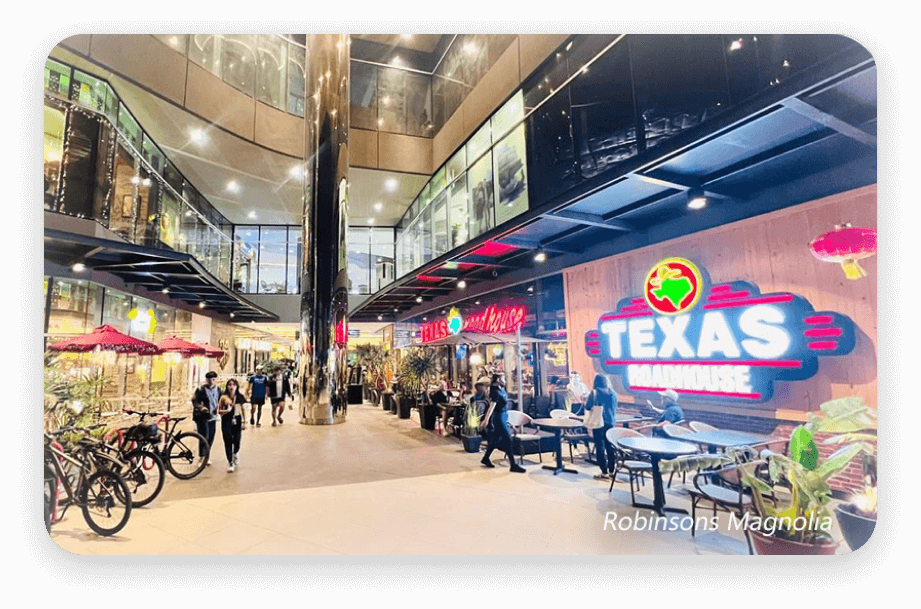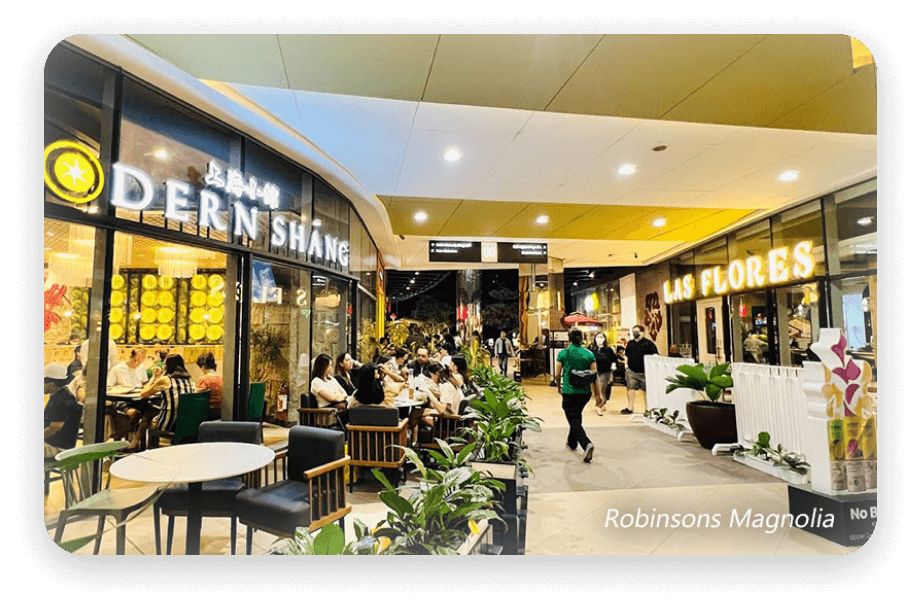 Complementing these enhanced dining experiences were new attractions and events that provided the much-needed dose of fun and entertainment for mallgoers. Customers were treated to engaging visual installations, leisure activities, and promotions during the Lunar New Year, and summer and Christmas seasons. In between these, Robinsons Malls staged various programs to engage customers through their interests, passions, and hobbies. Active lifestyle zones were enriched with more facilities, such as RC tracks and the first in-mall obstacle course at Robinsons Galleria to cater to fitness and sports enthusiasts, and hobbyists alike. Pet parents were given access not only to safe play parks for their fur-babies but also to relevant advocacy programs such as pet adoption and vaccination. Kids were also given an avenue for learning and discovery through RMalls Academy, which offered basic workshops and learning sessions on sports, music, and the arts.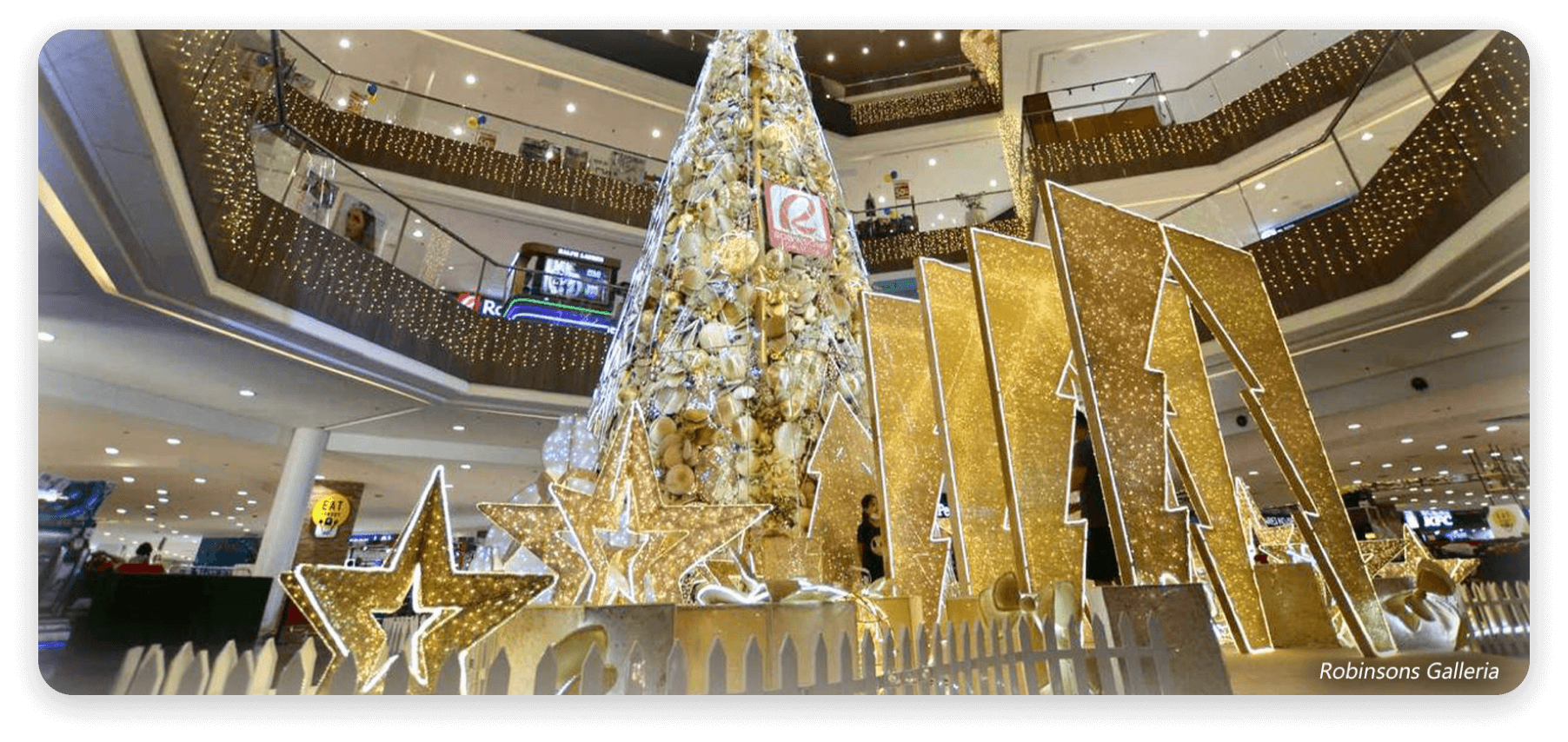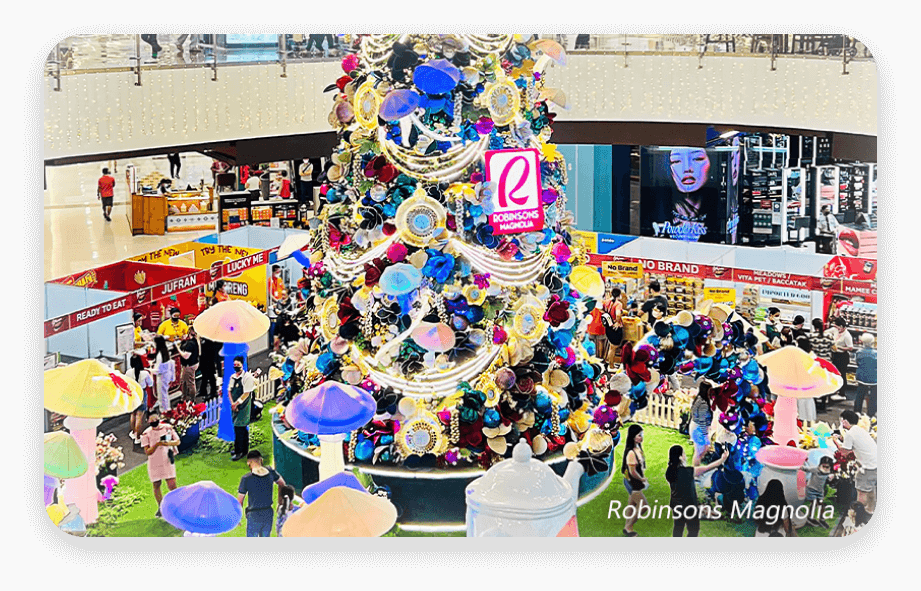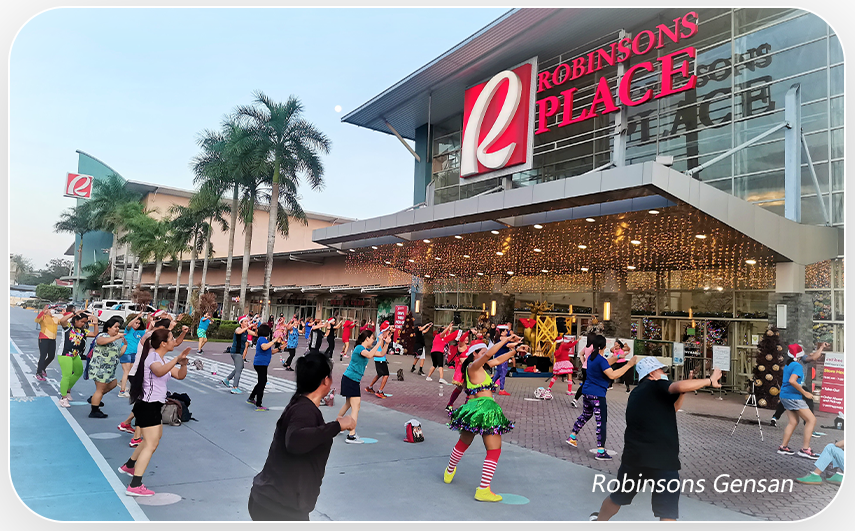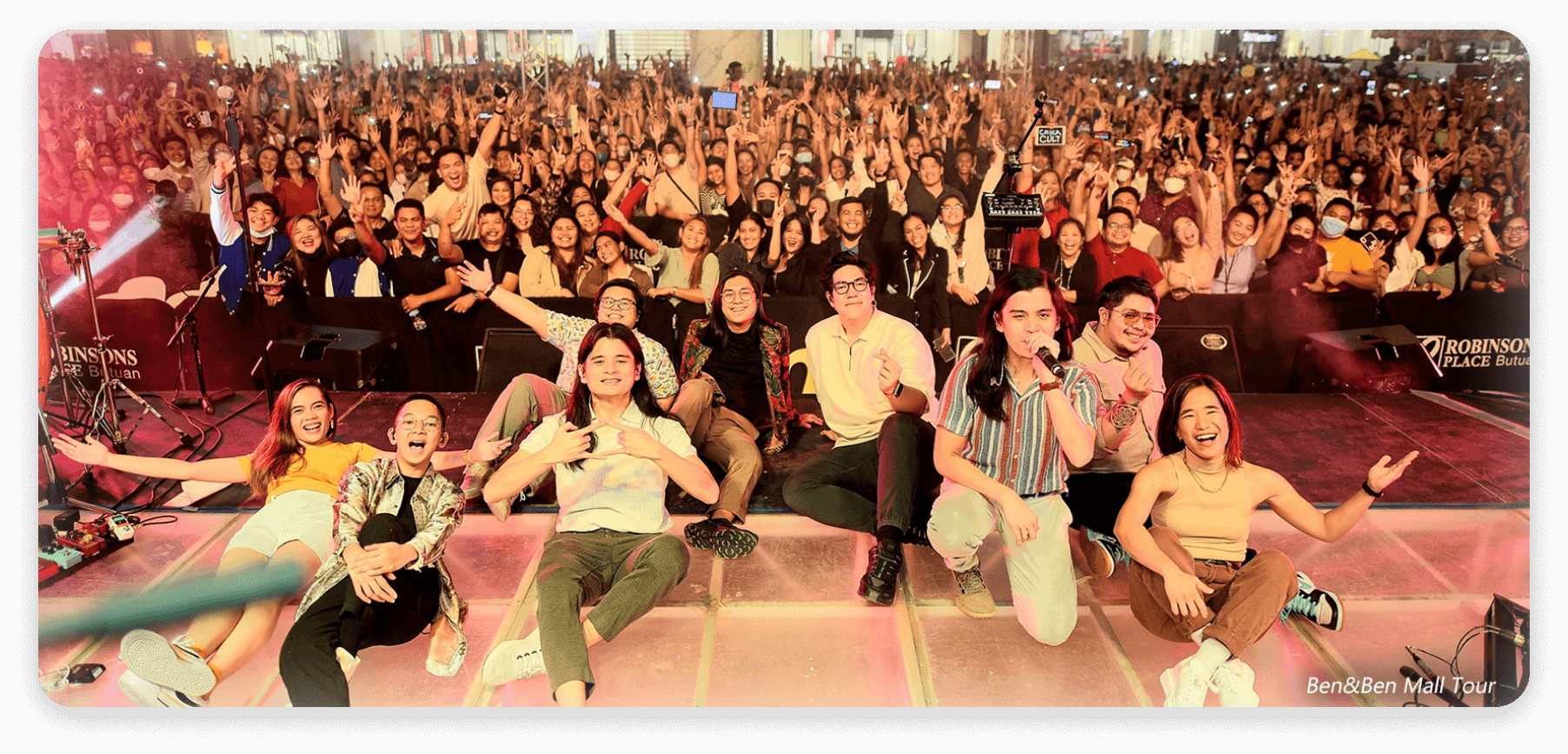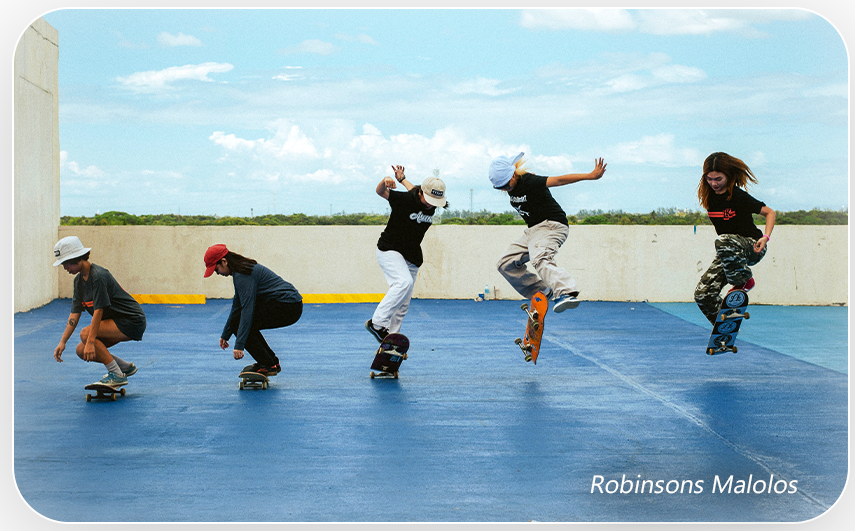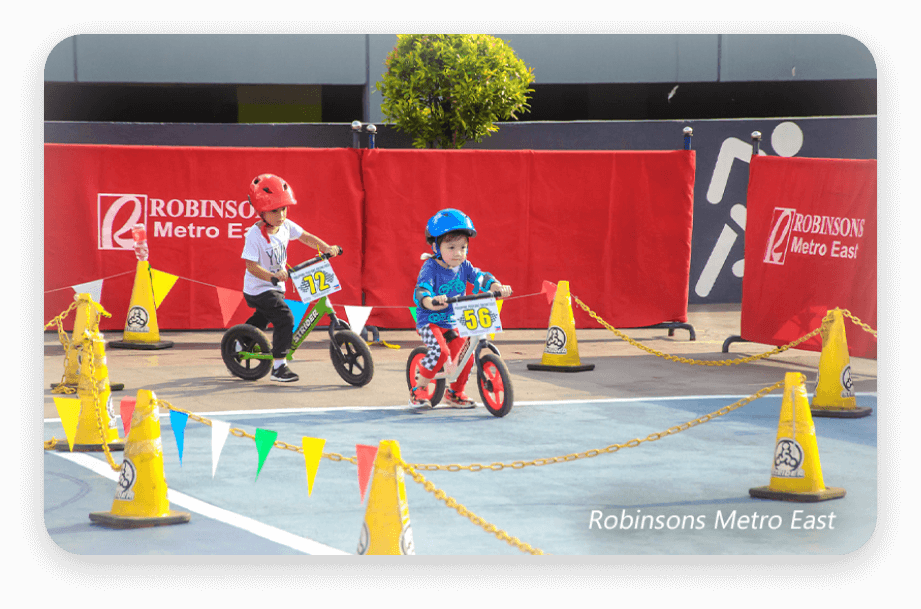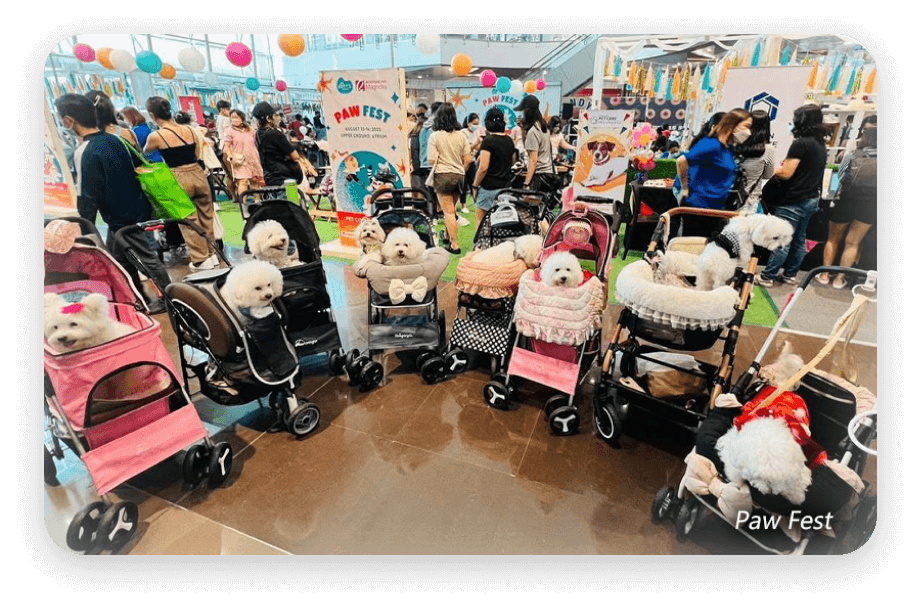 SUSTAINABLE PARTNERSHIPS
In 2022, Robinsons Malls showcased various high-impact events and campaigns in collaboration with renowned global and local brands. Robinsons Manila was Netflix's choice of venue for its first and only Slumberland inflatable playground in the Philippines, and Robinsons Galleria for The Gray Man's digital LED execution. Meanwhile, Robinsons Manila hosted the launch of Lechonk, the newest Pokemon character, with larger-than-life installations and special promotions. Other notable attractions in various malls nationwide include a giant designer toy inflatable by hip toy artist Quiccs, and the wooden mini-houses in Robinsons Galleria Cebu's Christmas Village.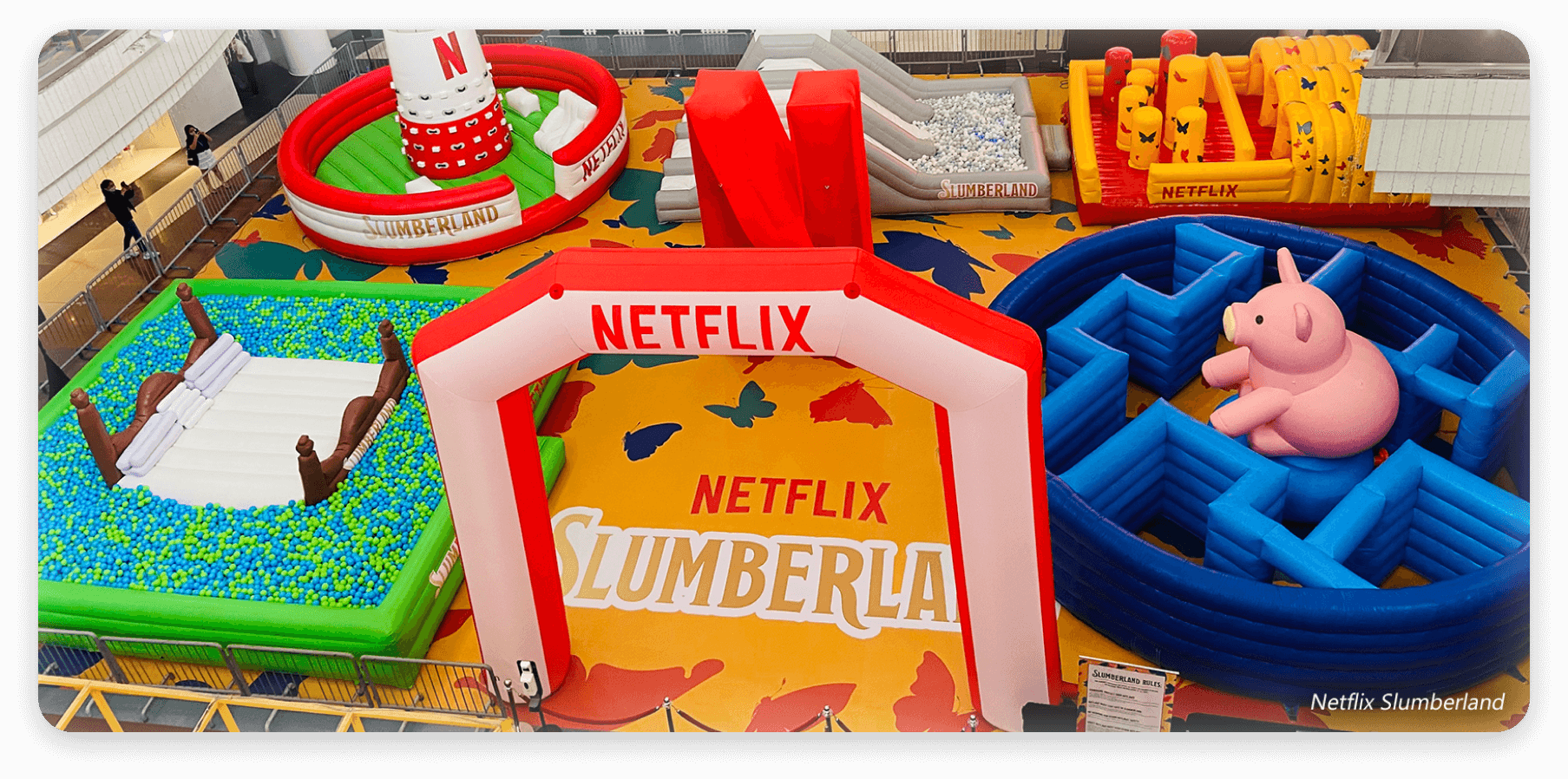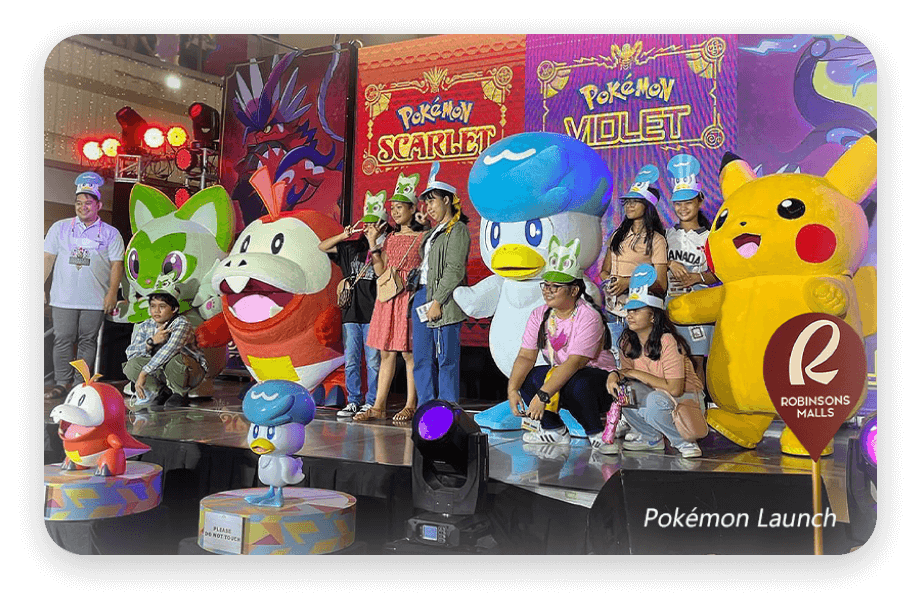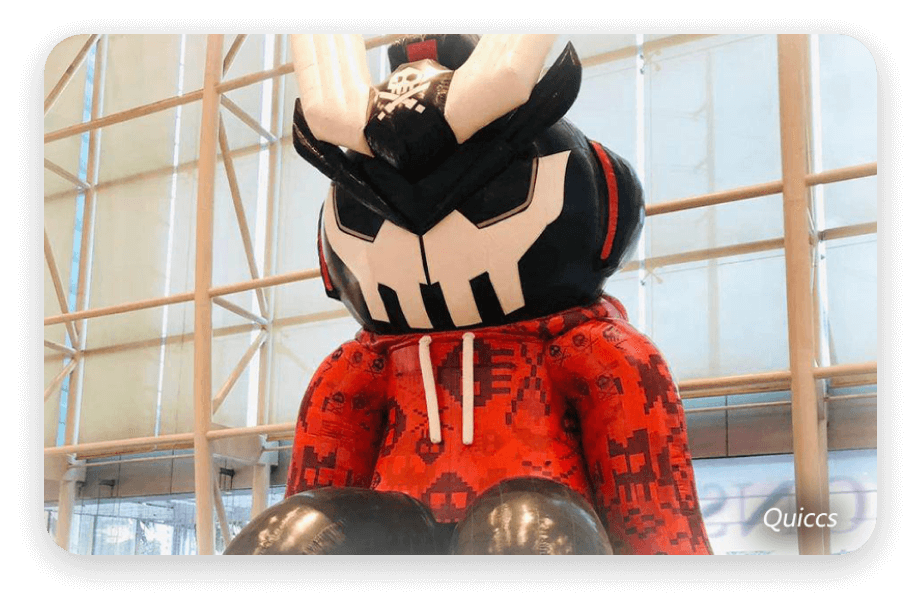 Furthermore, in partnership with national and local government units, Robinsons Malls pursued its thrust of serving communities. It continued to support booster dose and pediatric vaccination efforts and opened voter registration sites for the 2022 presidential elections. It also expanded the Lingkod Pinoy Center to include Bureau of Quarantine for overseas workers, and Bureau of Immigration for off-site processing of alien registration.
In line with the Company's sustainability agenda, Robinsons Malls partnered with e-Sakay, a subsidiary of Meralco, to introduce electric vehicle (EV) charging stations for cars and e-bikes in three (3) of its malls. It also forged a collaboration with URC for its Juan Goal for Plastic program, on top of existing waste management and plastic recovery efforts, to help reduce the volume of plastic that go to landfills. These partnerships were supported by public awareness efforts led by the unveiling of a large nature mural at Robinsons Galleria.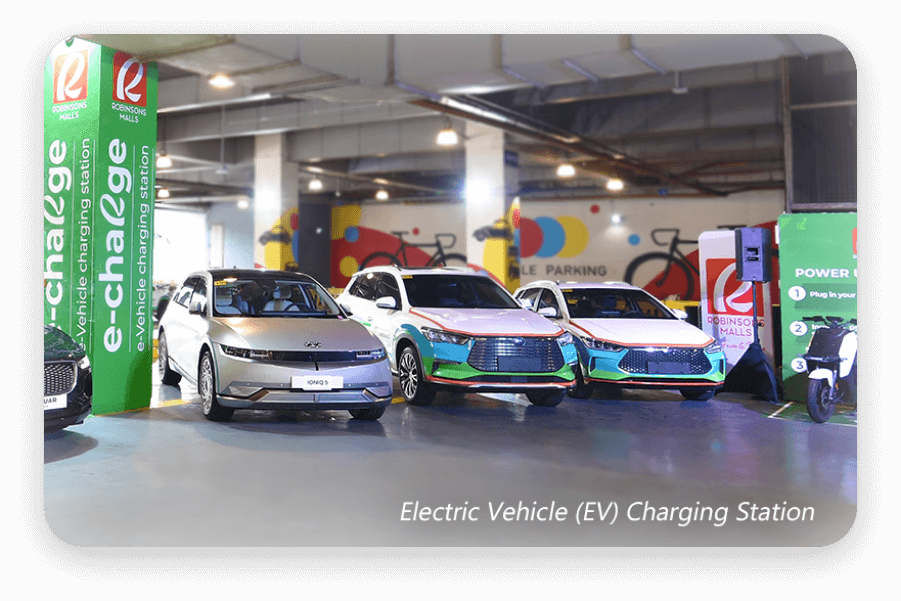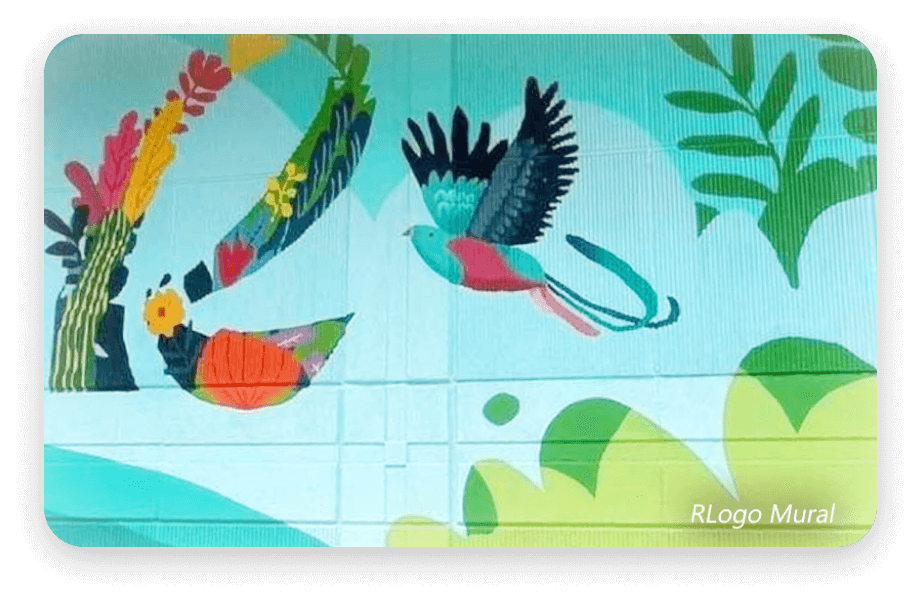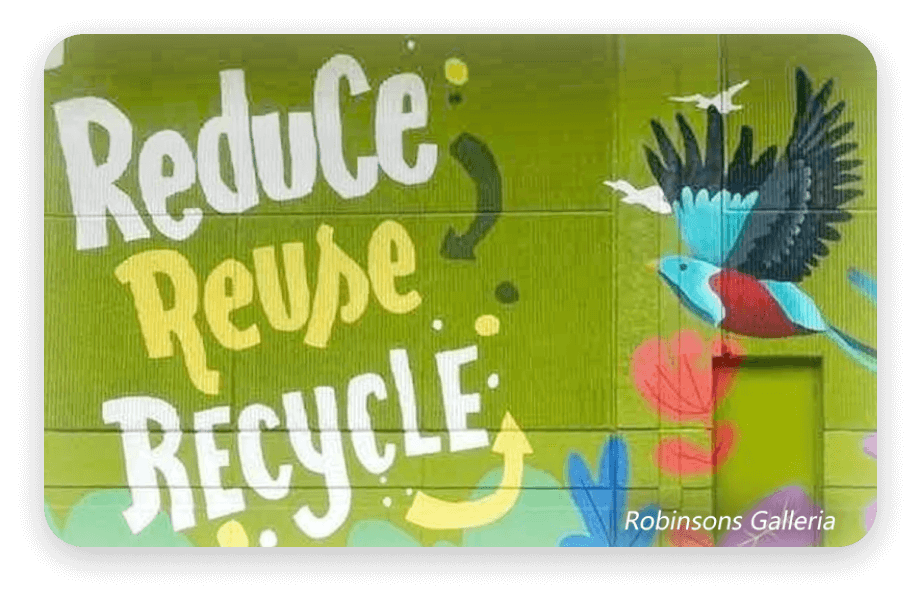 BETTER CUSTOMER EXPERIENCE
In pursuit of enhancing the customer experience, Robinsons Malls stepped up its transformation initiatives to improve existing digital platforms.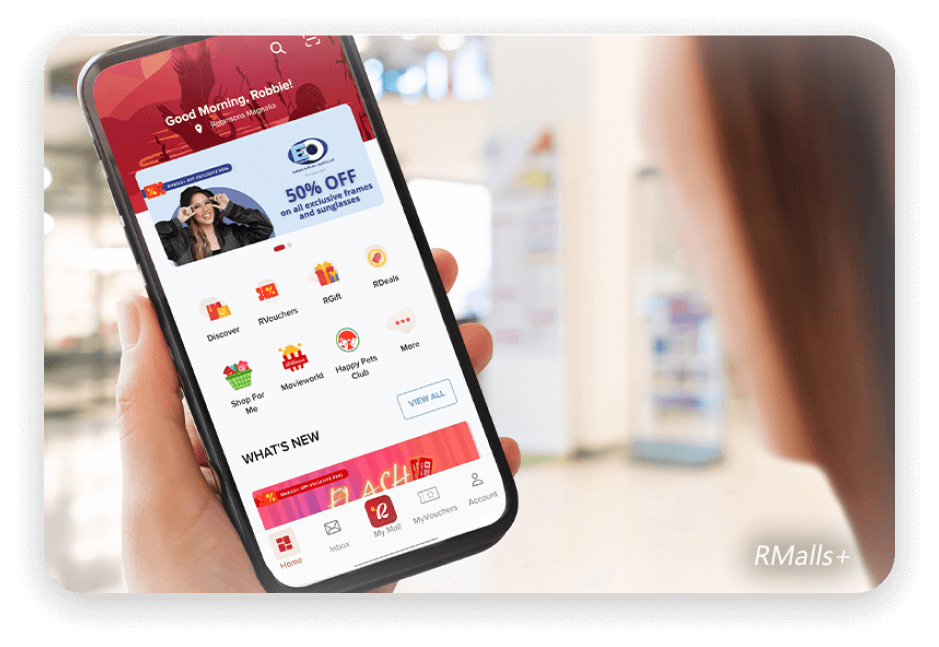 The Tenant Portal, a web-based tool developed to improve the delivery of services to tenant partners, now has new self-service features for ease of access. Users can now seamlessly manage multiple stores via a single dashboard and efficiently process various transactions through the portal. Moreover, RMalls+, the new app that provides customers with relevant mall information, exclusive offers, and special tenant deals, launched the digital pet ID registration and in-app gamification.
Finally, MallDash, an ecommerce site featuring the products of Robinsons Malls' tenants in one platform, strengthened its presence with the addition of Robinsons Manila to its initial 4-mall coverage. It likewise increased its merchant partners, and introduced better user features. With the app version already in the final stages of development, MallDash is on track to provide more customers with seamless access to fast and reliable shopping services.
STRATEGIC EXPANSION
Robinsons Malls strengthened its portfolio and responded to ever-changing customer expectations with the expansion of Robinsons Antipolo and the opening of Robinsons Gapan.
Featuring tropical-inspired interiors with unique leaf-seed-stone-shaped patterns, the new wing of Robinsons Antipolo, which opened in May 2022, is a reflection of the city's history, people and lifestyle. It transformed the mall into a complete, urban lifestyle destination with an exciting mix of international and local establishments. The experience goes beyond traditional shopping with must-try restaurants and other new amenities, including health clinics, kids' amusement centers, and hobby stores.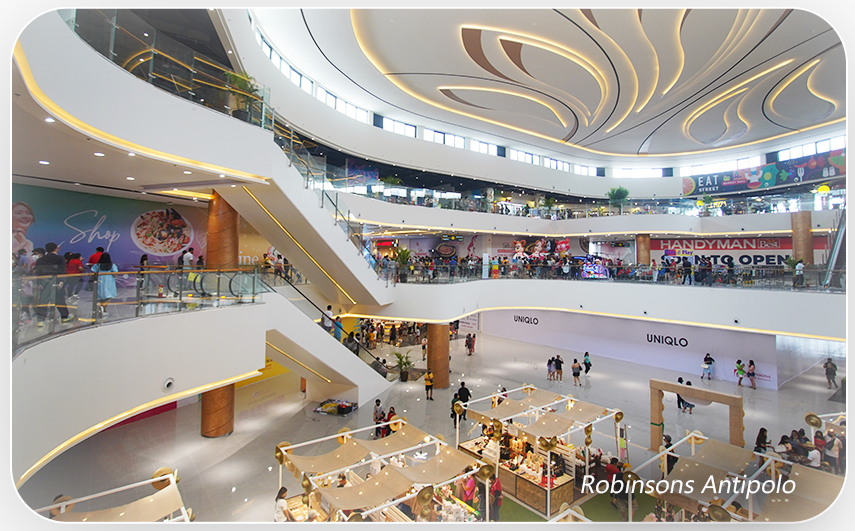 In November 2022, Robinsons Gapan swung open its doors to a record crowd as RLC's second mall in the booming province of Nueva Ecija. Conveniently located along the Pan-Philippine Highway, Robinsons Gapan is highly accessible to the nearby progressive cities of Palayan and Cabanatuan, as well as the flourishing towns of the Bulacan Province. The mall sits on a 5-hectare property and has a gross floor area of over 40,000 square meters spread across three levels of retail, lifestyle and dining options.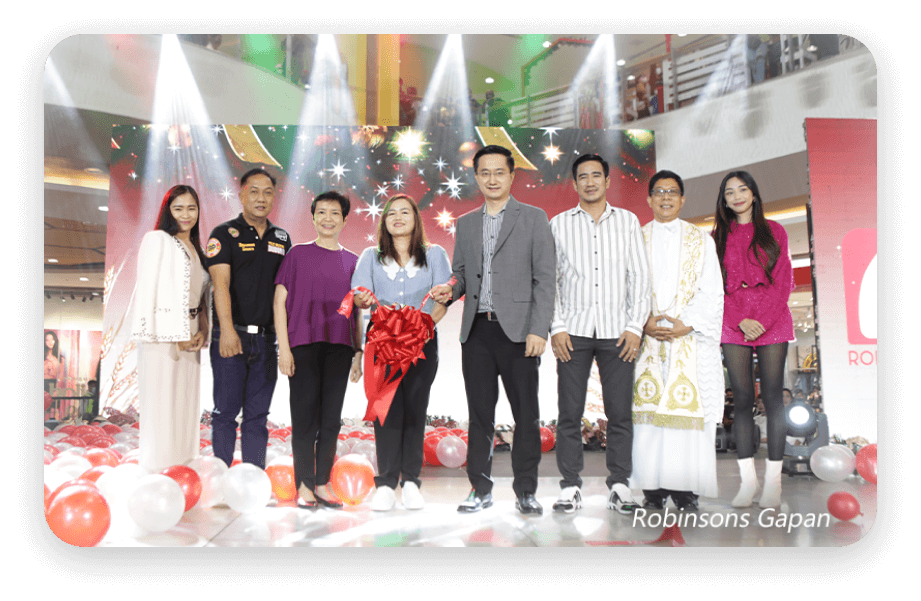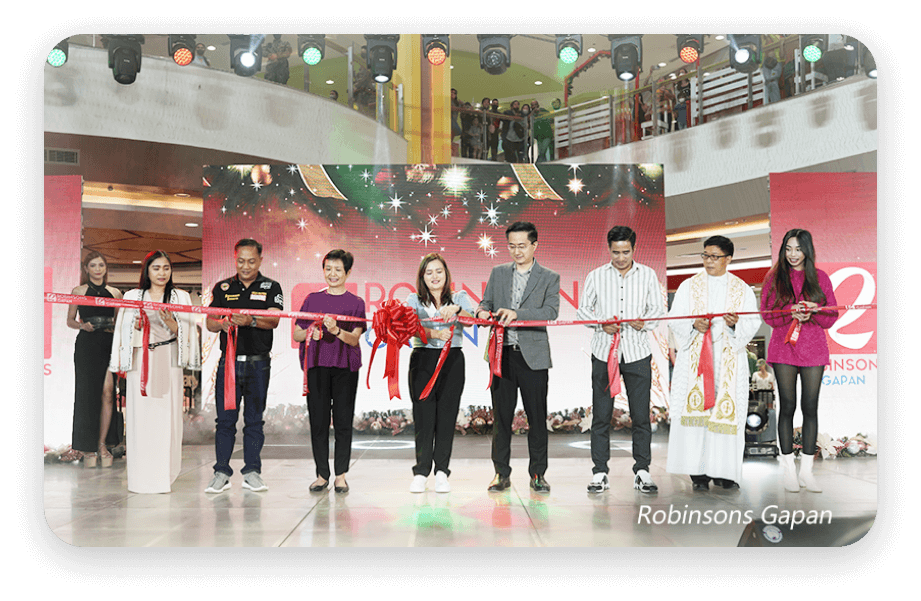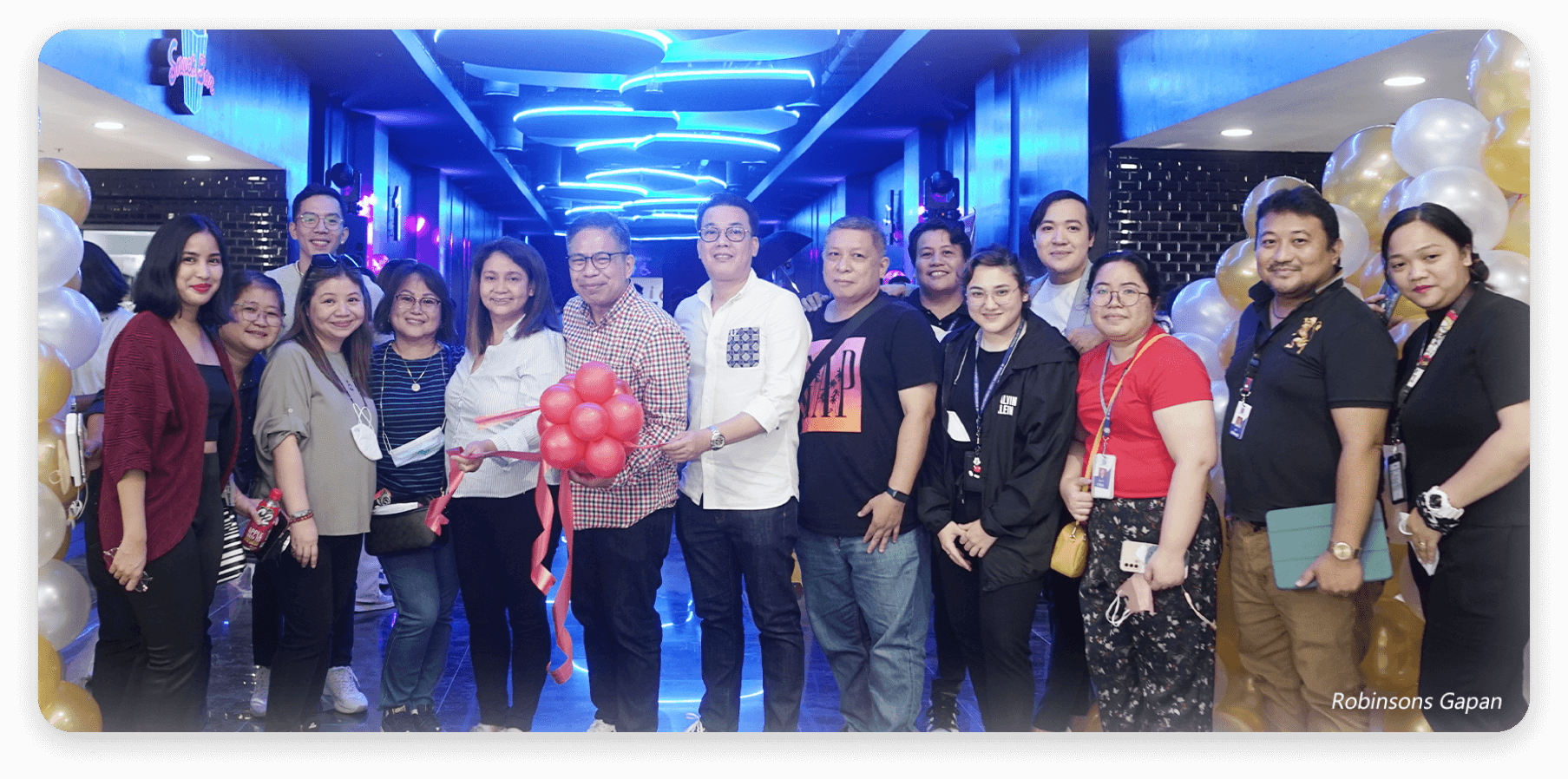 Robinsons Malls is slated to open its much-awaited flagship upscale mall, Opus, in 2023. This luxury lifestyle center will rise in the Bridgetowne Destination Estate in Quezon City. Another exciting addition to RLC's portfolio of lifestyle centers will be The Mall | NUSTAR, which will house a collection of luxury global brands, exciting specialty offerings, and an extensive range of dining, entertainment, and pampering choices within Cebu's premier 5-star integrated resort.
BRAND PROMISE
Robinsons Malls remains steadfast in its commitment to innovate and deliver delightful experiences to customers. It will continue to reinvent existing malls and build modern lifestyle destinations, where families can come together, enjoy special moments, and create memories that last.