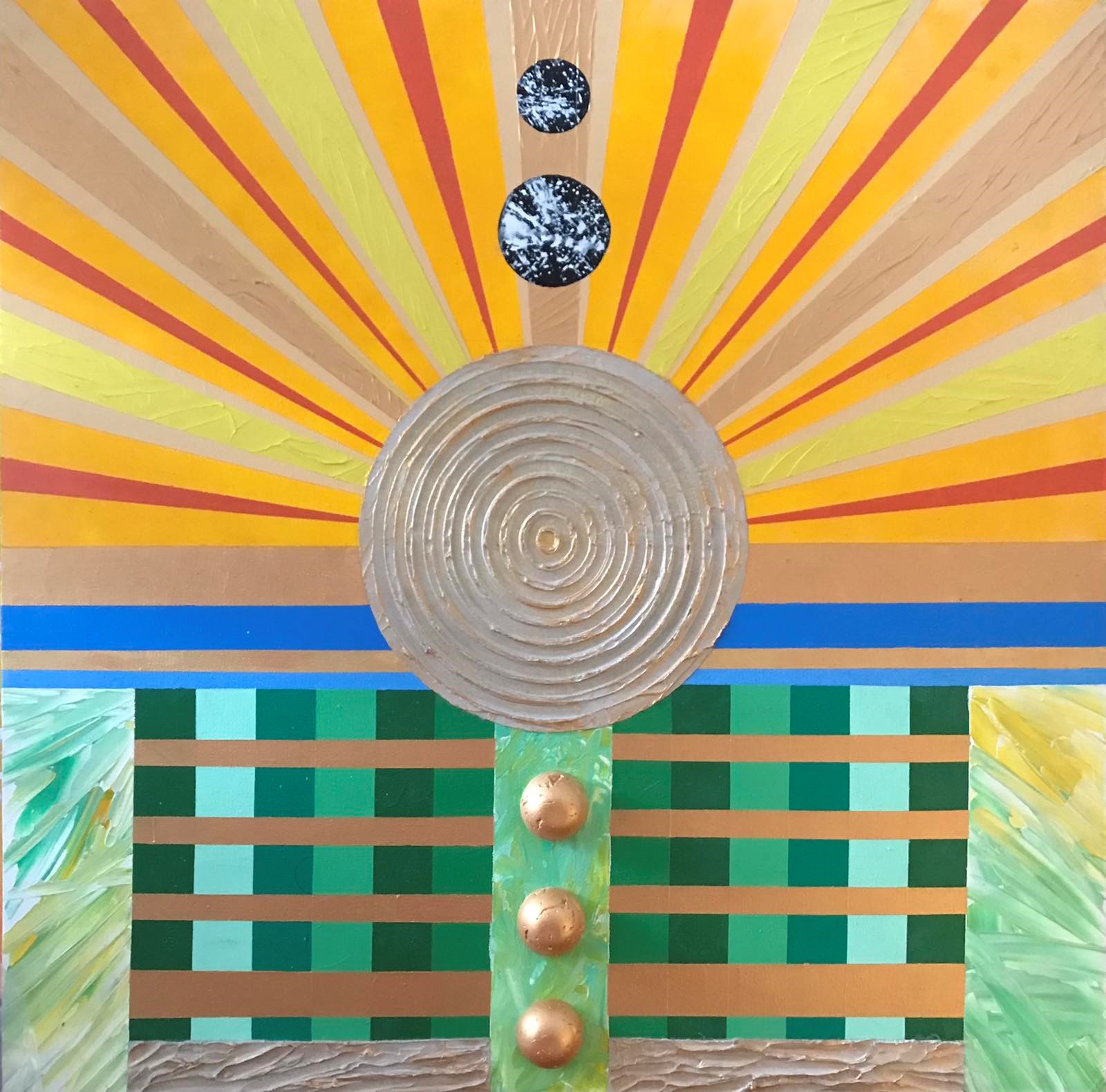 In this world full of negativities, all we need is to help each other, show love, and unite to create peace and harmony. There are challenges but nothing is impossible! Like in art, putting together the colors, space, shapes, texture, value, and a line can form a rhythm, a balance that can emphasize a movement. Each of the 11 artists featured in the "Buklod" exhibition – From Feb. 1 to 15 at ARTablado in Robinsons Galleria – amalgamated their creative minds to create a show that can inspire every Filipino artist from newbies to experience.
"We see art as an escape from reality," says the group spokesperson. "Whenever we create our art, we feel na nasa safe haven kami." They make their own rules and spin their own ambitious abstract worlds — despite day jobs, mind you.
"Buklod" features the abstract works of 11 artists: Jas Agbunag, Anton Aguas, Richard Apostol, MarPolo Cabrera, Meyo de Jesus, Rolly delos Santos, Ross del Rosario, Danny Encabo, Veejay Palcunan, Patrice Palisoc and Ronald "Doods" Pena.
Jas Agbunag is a freelance graphic designer. Richard Apostol is a senior associate designer in a BPO firm. MarPolo Cabrera is at present an online writer and businessman. The rest are either freelance artists or have bitten the bullet and have become full-time art practitioners.
The word itself, buklod, has a comforting resonance. "Nagpapakita ito ng pagkakaisa ng mga Filipino artists — iba't-iba man 'yung styles namin, we are united at nag-buklod kami to celebrate art and our passion."
"Buklod Para sa Sining," is Robinsons Land ARTablado's opening salvo for National Arts Month. Not only has ARTablado become a platform for artists from all walks of life (including artists both upcoming as well as the more senior ones) to showcase their artworks, it also encourages artists to give a free rein to their creativity and give in to that thirst for exploration and experimentation, to be the best in what they do.
"ARTablado is a perfect venue to showcase our passion sa art. We believe na ARTablado can give Filipino artists a space where they can show the world na 'Ito 'yung sining ko at proud ako dito!' ARTablado is a bridge between artists and the viewing public. Nakakatulong ang ARTablado na mas ma-promote pa lalo ang mga sining na gawa ng Pinoy!" 
Meyo de Jesus, Danny Encabo and Rolly de Jesus have mounted or participated in exhibitions at ARTablado in the past. MarPolo Cabrera is one of the very first artists featured in the Robinsons Land venue.
"ARTablado opens so many possibilities and opportunities sa bawat artists. Some of the artists participating in 'Buklod' who've already exhibited in ARTablado can prove that." The spokesperson shares how ARTablado is not just an exhibition space; the people behind ARTablado help artists promote their art, engage with art collectors and introduce them to the featured individual or group, and offer pieces of advice to artists on how to navigate that often tempestuous waters of the art scene.
"With ARTablado, the artists are in good hands. Blessing ang ARTablado."
The group spokesperson said that they are 11 artists with different approaches and takes on what constitutes abstract art and how to give a semblance of form to the non-figurative.
"We have different perspectives sa sining namin. 'Yung iba sa musika humuhugot ng inspiration sa pagpinta. 'Yung iba sa emotions or experiences nila sa buhay. Dun palang each of us has his own identity." Thus, viewers can differentiate which piece is by a particular artist.
"Magkakaiba man kami ng styles, naglalayon naman kami na magbuklod para sa sining."
And — this may very well be the driving philosophy of the artists in "Buklod" — all are united in upliftment.
* * *
Established in 2020, Robinsons Land ARTablado, a portmanteau of "art" and "entablado" is Robinsons Land's very own stage in showcasing the Filipino ingenuity and creativity. This platform allows emerging artists to freely express themselves through art and paves the way to greater recognition of their talent and hard work. To date, ARTablado has mounted over 40nexhibitions and hosted over 300 artists.