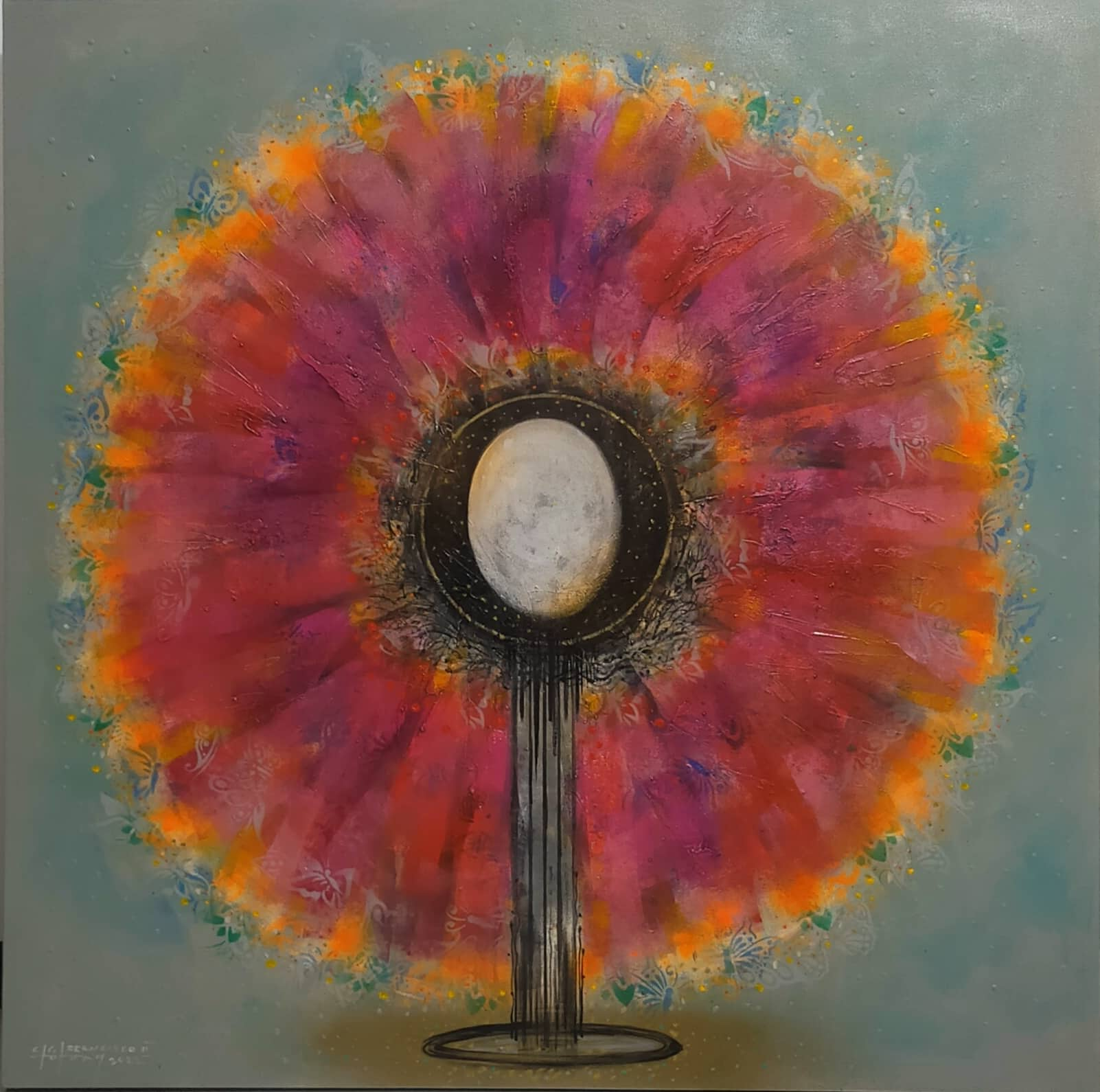 Art is a window which offers a peek not just into the psyche of the artist but also into an entire tradition of creating something out of a nameless void.
On view at the Upper Ground Floor, North Wing of Robinsons Place Antipolo from July 1 to 15 is "Dungawan," which features the works of Grupo Sining Angono composed of artists with divergent artistic viewpoints who are inspired by the commitment of ARTabalado Antipolo to offer a "window of opportunity" for artists from all walks of life.
For the members of Dungawan, a window (or bintana in Pilipino) can also function as a viewfinder or (like the Spanish mirador) a tool to find inspirational subjects or a passageway to imagination and creativity. According to its group statement: "'Dungawan' is perhaps a symbol of hope, possibility and a metaphor for change, a step into the unknown." In this exhibition, each artist explores that aperture into a new way of seeing the world.
Berny Supsuin's subjects are common folks with stiff shoulders as well as rough hands and feet, but their daily toil and faithfulness to the family exude a heartwarming, vibrant and colorful extraordinariness.   
Marvin Espino "Chap" Saguinsin's vibrant colors and realistic figures are inspired by the natural lighting in photographic images.
Charlie Val pendulums between two schools of thought: the Botong-informed tradition and the contemporary Angono aesthetics.
Dino Blanco is all about expressive brushwork as well as deftness with a palette knife for dramatic contrasts.
Herbert "Ebok" Pinpiño, a tattoo artist, is steeped in the Angono-style of images and concepts that feature local history, myths, traditions and culture.
Edberth Roan is deeply inspired by nature, working with charcoal, colored pencil, watercolor and assorted media.
Frederick "Erik" Sausa is an artist as well as a curator. He was a former member of the seminal no-name UP group that later on became Surrounded by Water in the late Nineties.
Jan Michael Ong says that his chosen subjects are "tao, isda, at mga espesyal na okasyon."
Jao Mapa is an actor who is also a figurative expressionist painter. He says, "I am like a camera. My subjects include labanderas, magtataho, sabongero, mothers and children, among other socially relevant figures."
Jovito Andres paints serene fishing villages, rustic farms of his beloved hometown and simple childhood pleasures.
Norman Blanco pursues an experimental style of drawing, creating elongated "Manierismo" figures with exaggerated proportions, posture and expressions.
RJ Tolentino is an international hairdresser who is also an abstractionist who creates textured images and an artist who is into street photography.  
Totong Francisco's body of work focuses on representational imagery (just like his grandfather, National Artist Carlos "Botong" Francisco), but he is also testing the "territorial landscape of the unconscious."
Tristan Tiamson draws inspiration from Gustav Klimt. Tiamson played with earth colors initially, but is now into experimenting with bolder, more adventurous colors.
ARTablado, a portmanteau of "art" and "entablado" is Robinsons Land's very own stage in showcasing Filipino ingenuity and creativity. This platform allows emerging artists to freely express themselves through art and paves the way to greater recognition of their talent and hard work.