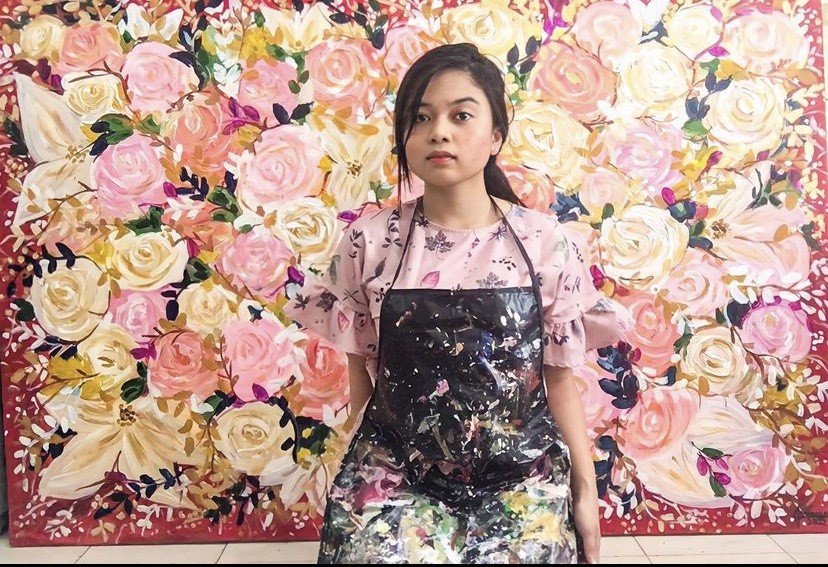 When Janelle Marahay was in grade school, there was an unspeakable incident in her hometown of Guimaras and the victim was a woman. As Mary Janelle grew up, she encountered multiple incidents where women and young girls had been victimized, not even knowing they were being at all mistreated. "I wanted to be part of the solution," she explains. "That's why I decided to take up law. There is a need to educate women, especially those on the margins, on what their rights are, and what protections they have under the law against abuses and discrimination."
 She was able to finish law school in Arellano University last year. But, for a working student like Janelle, it was a path ridden with doubts and struggle. "I had to take on different kinds of part-time jobs to make it through, especially when the pandemic hit. During those times, to cope with anxiety and depression, I started painting."
For this self-taught artist, painting became a means of escape from the uncertainties and terrible things happening in 2020. "For me, the canvas was a small universe where I had control," she shares. "And that feeling of relief and certainty was primarily why I started making art."
Selling artworks provided Janelle much-needed funds to get her through law school, but — more importantly — art gave her the outlet to be creative while going through the grueling process of studying law. The mandate of the brush centers on expression, instinct and freedom. But art, no matter how free, has its own inescapable laws. For one, the creator must be attuned genuinely to the core of one's being; there must be authenticity. Janelle found realness in striking a balance between painting and hitting the law books.
"I know it may seem like law and art are separate fields, but there are more similarities than one might think," she points out. She realized early on that passion is essential in both. "In law, logic is not enough, passion is crucial where the goal is to fight for others and to set wrongs into right. In law, we deal with some of the most horrible things in society, and find a way to make the latter a little bit better — one day at a time. Art is not that different. It is also about using one's hands and vision to bring beauty into reality, which could be harsh. To me, both fields find a common ground: they both are about providing relief from pain at the end of the day. And beauty, strength and justice are what I wish to keep portraying in my art."
For Janelle, flowers as a subject encapsulate her aesthetic. "I've always felt a connection with painting flowers — and I've developed my signature style for them over the years. In reality, flowers are beautiful yet fragile. Portraying them on canvas feels like defying nature: to paint flowers that never wither."
Her most memorable piece so far is a floral composition titled "Lourdes," which was named after her late grandmother who raised her and succumbed to cancer. It was one of her first paintings to be exhibited and was the first one sold during an exhibition.
The artist sees flowers as something archetypal, "timeless classics, simple and unassuming, yet deeply connected to the human fabric." She depicts them, though, with a modern twist inspired by abstraction and impressionism, using her innate talent for color and intuitive play of shapes and texture to — as Janelle herself playfully puts it — "make flowers that aren't really." This strategy spills over into her abstract pieces; their splotches of color and texture like exploding petals of gestural grace and abandon. Viewers can sense the freedom and control that Janelle exerts on the painting surface.
Opening on Jan. 16 is Janelle's "All Abloom" exhibition at Robinsons Land ARTablado in Robinsons Antipolo. The show is on view until Jan. 31. In her latest pieces, the artist portrays the "complexities, the falls, the flourishings" of being a woman. The exhibit is her love letter of sorts; its message is that "femininity is not a weakness, but a power in itself." This is where her advocacy for women's rights and desire to make positive changes in society drive her calling as an artist and her career as a lawyer.  
She concludes, "While flowers are beautiful yet fragile and fast to wither, they are brave enough to open themselves up to the harsh world. In my canvas, my flowers will last a lifetime, and that is symbolic of any woman who can transform herself into something stronger by educating herself as to what her rights are, and by being courageous enough to stand up for herself — no matter how hard the world tries to make her wither."
* * *
Established in 2020, Robinsons Land ARTablado, a portmanteau of "art" and "entablado" is Robinsons Land's very own stage in showcasing the Filipino ingenuity and creativity. This platform allows emerging artists to freely express themselves through art and paves the way to greater recognition of their talent and hard work. To date, ARTablado has over 40 exhibitions and hosted over 300 artists.