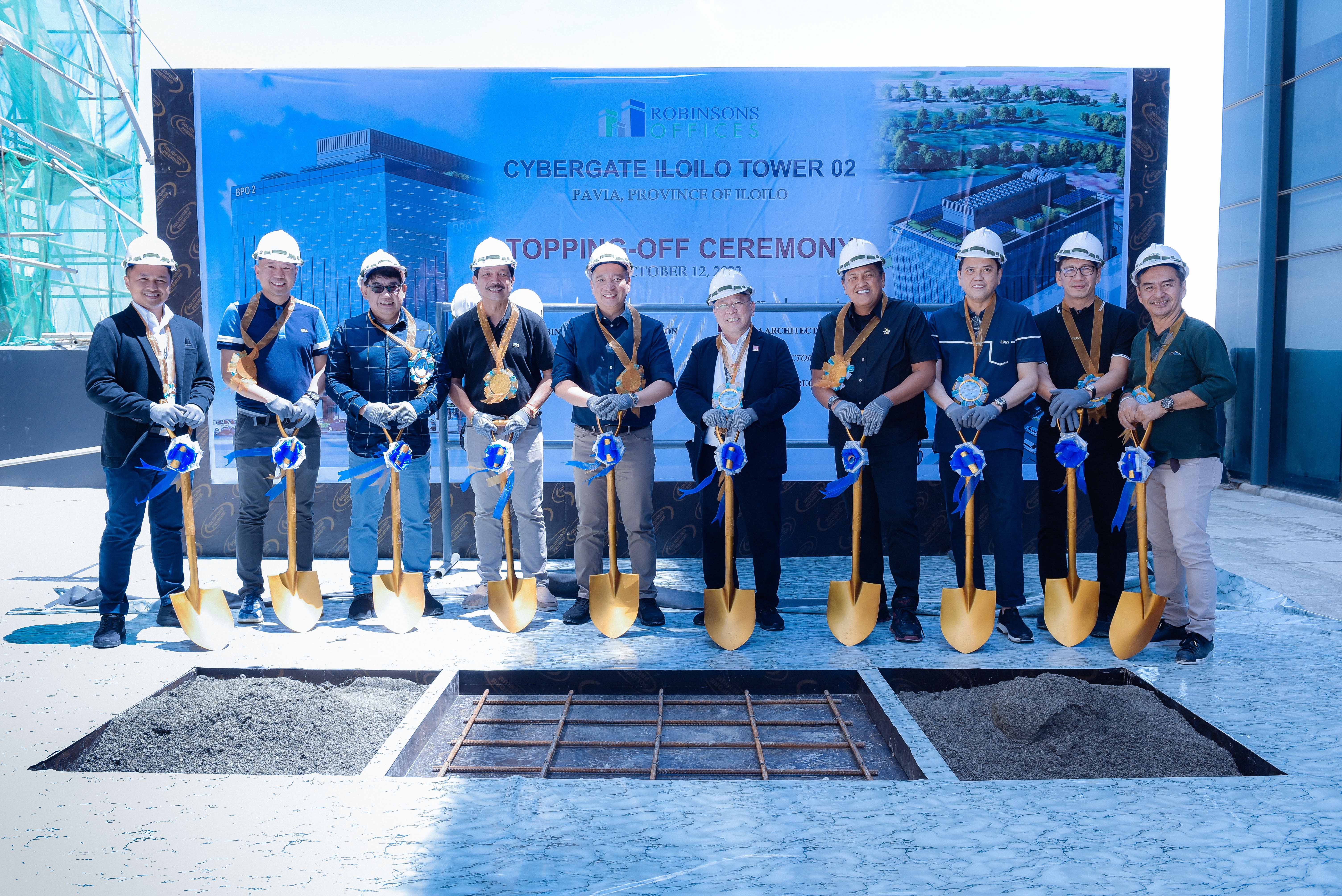 Robinsons Land Corporation (RLC), one of the country's leading property developers, is topping off the second office tower in its Pavia complex in Iloilo while breaking ground for the third tower at the same time--in response to growing demand in the Visayas.
"We have just completed the structural works for Cybergate Iloilo Tower 2 and will start building Cybergate Iloilo Tower 3. We are happy to mark the first time for us to simultaneously break ground and top off two buildings in the Visayas and Mindanao region," said RLC President and CEO Frederick D. Go.
He noted that, "Robinsons Land continues to expand and build prime office spaces in the provinces as these will not only help decongest Metro Manila but, more importantly, bring the operations of multi-national companies regional growth centers where they can generate jobs and help develop the local economies."
Located in the strategic Robinsons Place Pavia complex, both Tower 2 and Tower 3 of Cybergate Iloilo are registered with the Philippine Economic Zone (PEZA) and will allow future tenants to enjoy incentive packages from the government.
Cybergate Iloilo Tower 2 will be 9-storeys high with a floor plate of around 2,400 square meters—making it ideal for the operations of business process outsourcing firms. On the other hand, Cybergate Iloilo Tower 3 will be a 14-storey building.
With the aim of having both towers LEED-certified, the buildings were designed to have sustainable green features that will translate to energy savings for tenants while enhancing their work environment.
To ensure the convenience and security of its tenants, the two towers will have 100-percent back-up power with N+1 utility, 24/7 variable refrigerant flow air conditioning system which provides flexibility and control, fire and smoke detectors and alarm systems with water sprinklers, and 24/7 CCTV surveillance.
The Robinsons Place Pavia complex is close to the center of Iloilo City while strategically located along the Old Iloilo-Capiz Road and is only 15 minutes away from the airport.
The mixed-use complex is home to RLC's third mall in Iloilo which offers a complete range of mall amenities such as: a department store, supermarket, cinema, food gallery (food court), hardware, as well as international and local food and fashion brands.
The complex also has a transportation hub near the office towers for ease of access to, and from, Ungka Pavia, Ungka Diversion, Ungka Jaro CPU, Pavia, Sta. Barbara, Maasin, Leon, Calinog, and Lambunao.