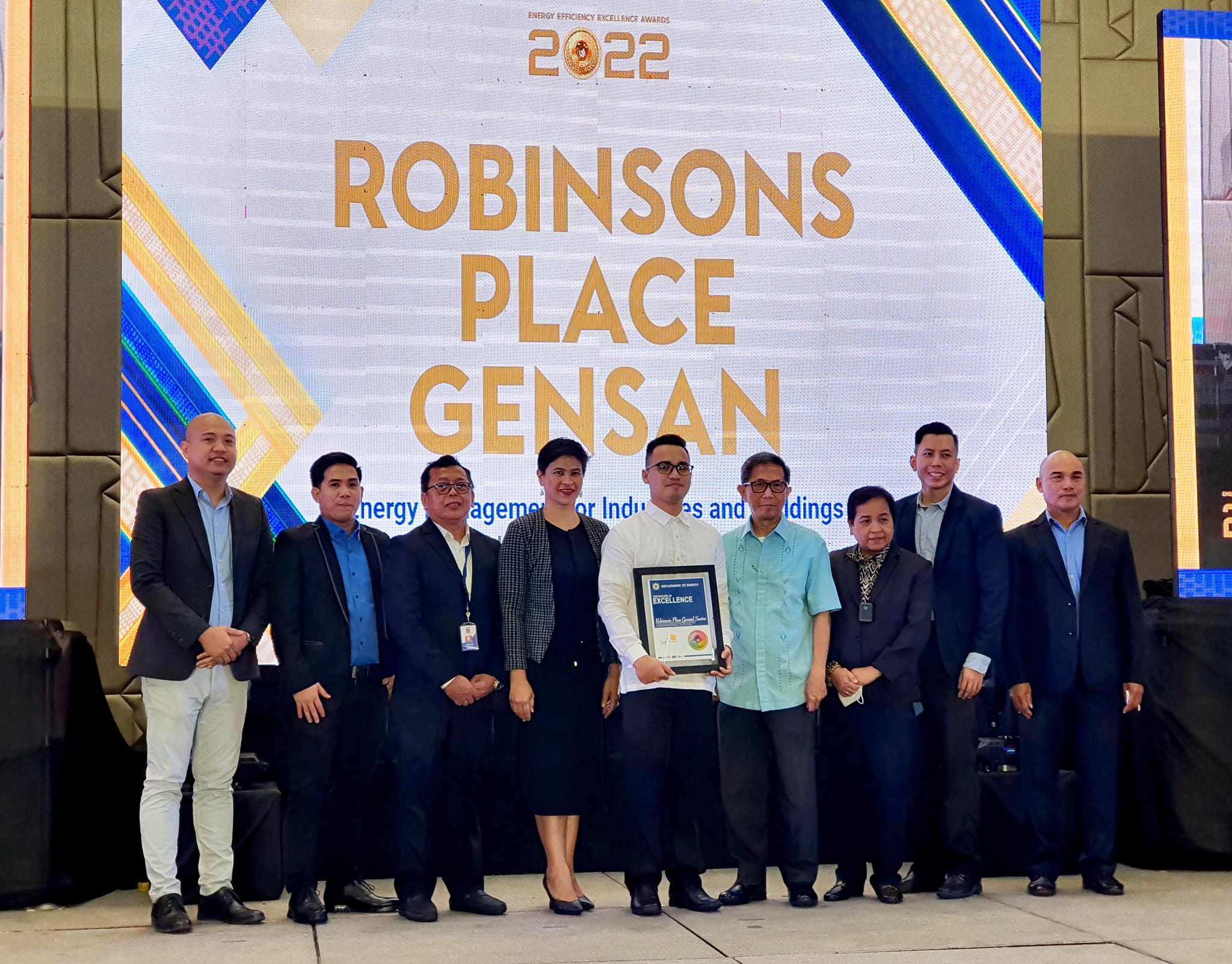 The Robinsons GenSan Team accepting the award of Excellence in Energy Efficiency from the Department of Energy.  From Left to Right: RLC Corporate Energy Head Engr. Lucky Jay Damaso, RLC Corporate Energy and Safety Manager Engr. Jerome Villasanta, RLC Engineering Head Engr. Percival Pangan,  Robinsons GenSan Mall Operations Manager Leomabell Velandria, Robinsons GenSan Chief Engineer Judelle Mike Hernandez, DOE Secretary Raphael P.M Lotilla,  DOE Asec Mylene C. Capongcol,  DOE Director Energy Utilization Management Bureau Patrick T. Aquino, and DOE Director Information Technology and Management Services Artemio P. Hapitan
The Robinsons General Santos Mall Team recently scored points with the Department of Energy as it garnered the "Award for Excellence", during the Annual Energy Efficiency Awards sponsored by the Agency.  The Gen San Mall was bestowed with this prestigious award in recognition for their outstanding achievement and best practices in energy efficiency and conservation in line with RA 1125 or the Energy Efficiency and Conservation Act. 
Aside from its advocacy of efficient use of land space by converting mall areas into spaces for recreation and health for its mall visitors and the community, Robinsons Gen San as it is popularly known, is one of Robinsons Land Corporation's (RLC) active players in renewable energy production through its Solar Rooftop PV System which generates 2,048 MW of power -compensating for 80-100% of its power demands during peak seasons.  Energy efficiency is also enforced in the mall with the use of LED lighting 24/7.
RLC is currently the largest solar-powered mall operator with solar rooftop installations in 24 Robinsons Malls, generating a total capacity of over 30 megawatts of clean and renewable energy that reduces carbon emissions and fossil-fuel based electricity.  Robinsons Malls, on top of its energy efficiency efforts, recently opened Electric Vehicle charging stations in Robinsons Galleria Ortigas, Robinsons Magnolia and Robinsons Tagaytay promoting zero-emission transportation alternatives in line with its commitment of "Making Life Better".