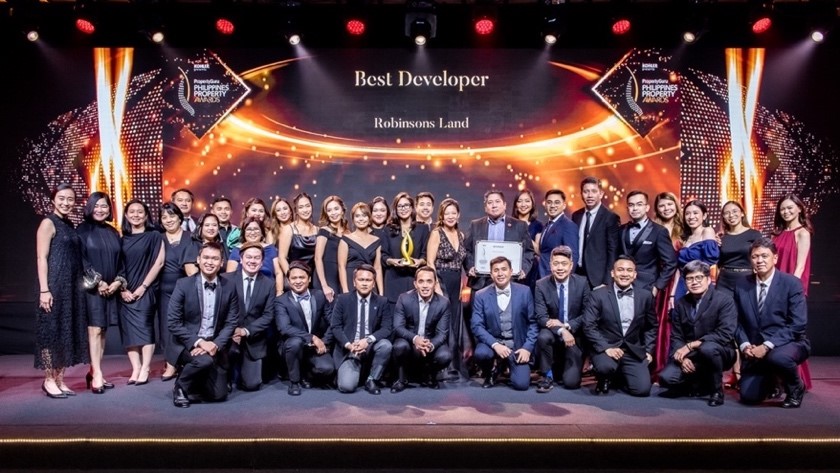 MANILA, Philippines — 7 October 2022
The 2022 PropertyGuru Philippines Property Awards, feted the country's finest, most innovative real estate developers and projects in a historic return of the black-tie gala held at the Fairmont Makati and streamed live online. PropertyGuru (NYSE: PGRU), Southeast Asia's leading property technology company, gave prominence to Filipino excellence in property development, architecture, and design in a total of 62 categories.
Robinsons Land Corporation (RLC) was named Best Developer, one of nine winning titles for the company. Robinsons Land also received the Best Developer (Luzon) award and the Special Recognition in ESG (Environment, Social, Governance) initiatives, as well as diverse awards for landmark projects such as Bridgetowne Destination Estate, Forbes Estates Lipa, Montclair Industrial Park, work.able Exxa-Zeta Center, the Robinsons Offices Headquarter, and Robinsons Hotels and Resorts.
BEST DEVELOPER IN THE PHILIPPINES
RLC was named the Best Developer of the Year as it continued to expand and build across all its business units despite the challenging environment created by the Covid 19 pandemic. The developments ranged from prime office and residential towers, horizontal housing, malls, and hotels; its recent entry into destination estates and industrial developments; as well as the public listing of its real estate investment trust RCR Commercial REIT.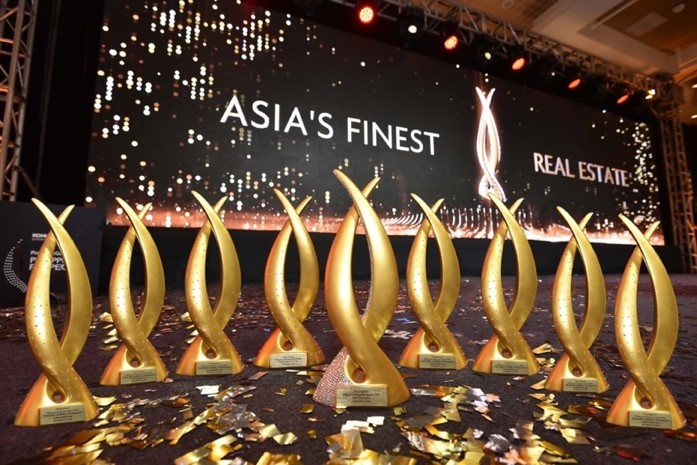 "This is an award that is, and will always be, a result of the dedicated and collective teamwork of our people at Robinsons Land. At RLC, we continuously strive to create shared success with every Filipino through the projects we build, the communities we shape, and the sustainable practices we promote," said Robinsons Land President and CEO Frederick D. Go.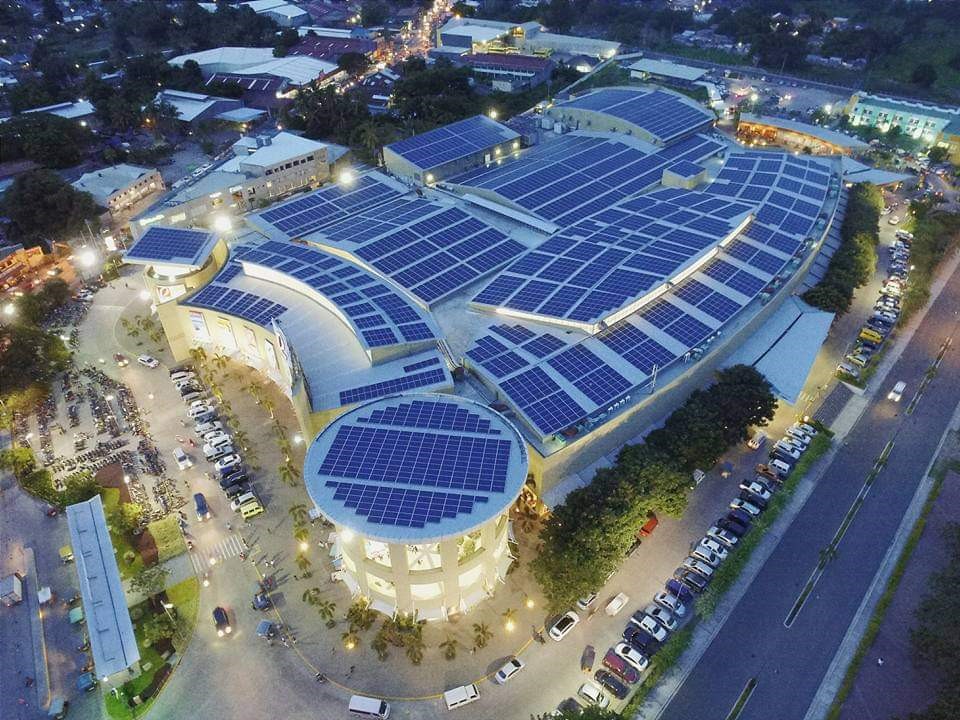 Robinsons Land's rooftop solar panels in Robinsons Place Dumaguete
RLC was also awarded a Special Recognition in ESG for its commendable efforts across all its developments on environmental sustainability, systems and technology; social responsibility and diversity approaches; and corporate governance and employee benefits.
BEST TOWNSHIP DEVELOPMENT
RLC's Bridgetowne Destination Estate was named the Best Township Development and also bagged the award for Best Township Masterplan Design.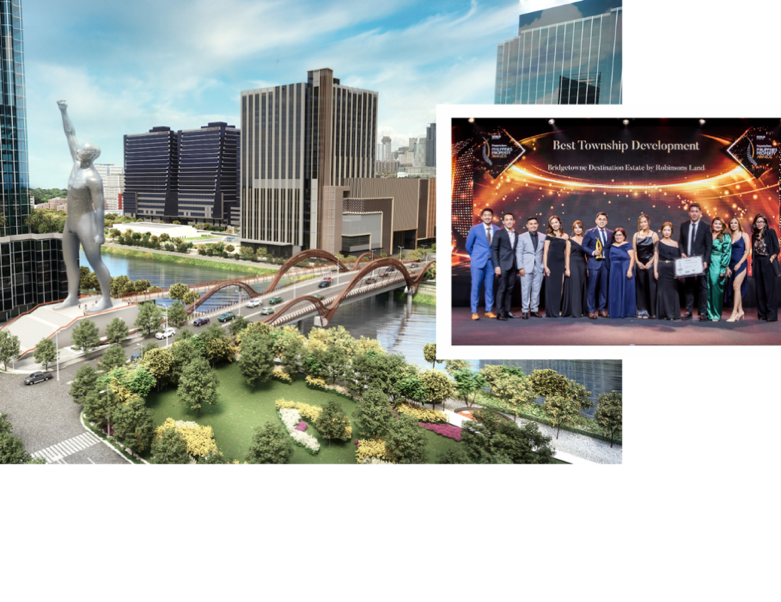 Bridgetowne Destination Estate as Best Township Development
Bridgetowne is a 32-hectare master planned fully-integrated development connecting two of the country's main city centers: Quezon City and Pasig City that espouses the live-work-play-inspire lifestyle within a green, sustainable community. It will feature a dynamic mix of real estate formats such as a premium full-scale shopping mall, retail strip malls of innovative F&B concepts, premium-grade office buildings, a 5-star hotel, and diverse residential offerings.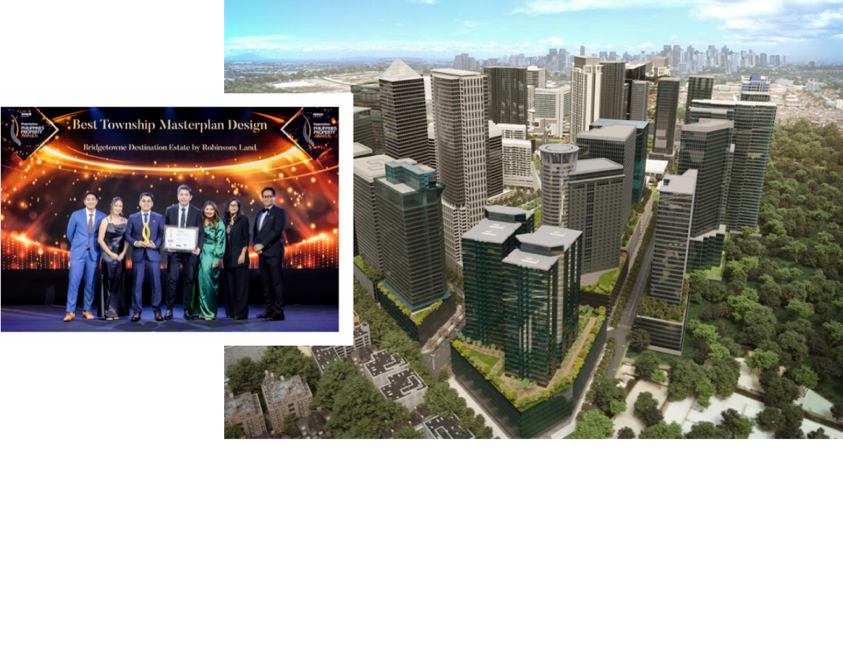 Bridgetowne Destination Estate as Best Township Masterplan Design
Stand-out features will be an iconic 55-meter public art installation, and an equally iconic bridge designed by the late National Artist, Arch. Francis Mañosa, connecting the East and West portions of the estate to be unveiled in 2023. The Bridgetowne Central Park, set within the heart of the development will be the main communal activity space in the estate where active lifestyle and modern leisure hubs will be located.
BEST INDUSTRIAL DEVELOPMENT
RLC's diversification into the industrial space is off to a strong start as it was awarded with the Highly Commended Best Industrial Development for its Montclair Industrial Park, an industrial space located within the 216-hectare Montclair Destination Estate in Porac, Pampanga.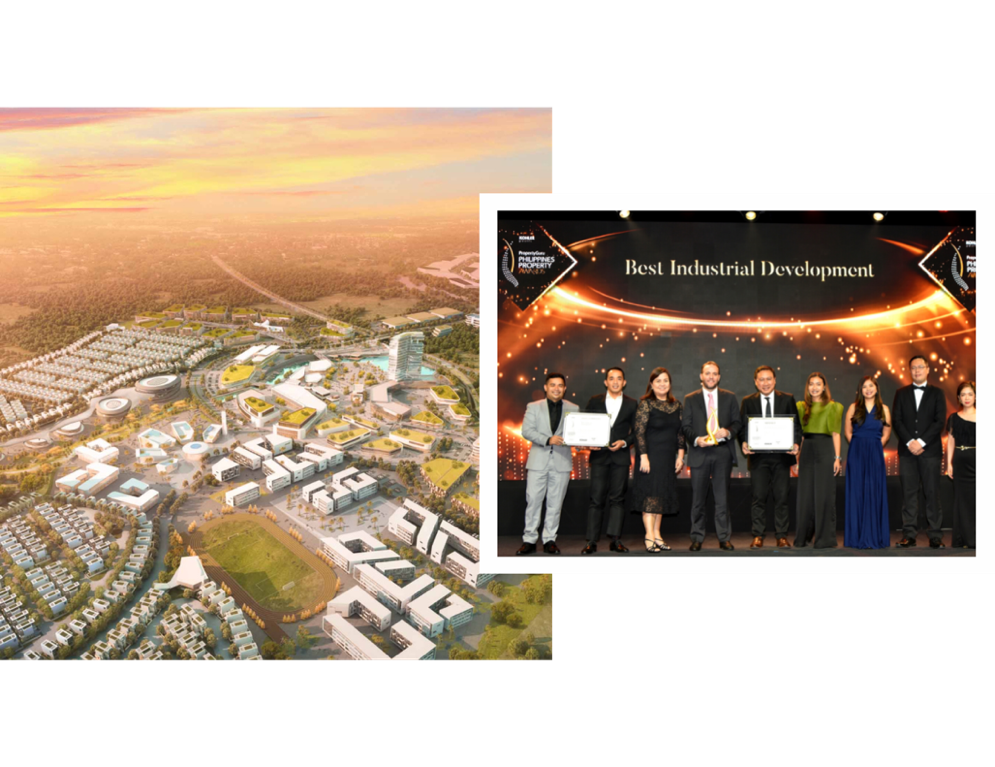 Montclair Industrial Park as Highly Commended Best Industrial Development
Envisioned to be a 40-hectare world-class industrial estate, the Montclair Industrial Park will be offering 1-2 hectare plots per lot for industrial use such as such as logistics, distribution and fulfillment centers, cold storage facilities, multi-storey warehouses and secure data centers for multinational and local manufacturing, e-commerce and logistics players.
Due to its strategic location and its proximity to Clark International Airport, Clark Global City, Subic Freeport and access to connected major highways – SCTEX, NLEX, TPLEX, SLEX, it will soon to be the new center of gravity and an economic powerhouse in Northern and Central Luzon.
BEST LIFESTYLE AND HEALTH & WELLNESS DEVELOPMENT
RLC also received the Best Lifestyle Development and Best Health & Wellness Development
awards for its first luxury subdivision, Forbes Estates Lipa, in Lipa City, Batangas. With well-being considered to be the ultimate wealth, the exclusive development affords residents the luxury of space, time, and a life well-lived.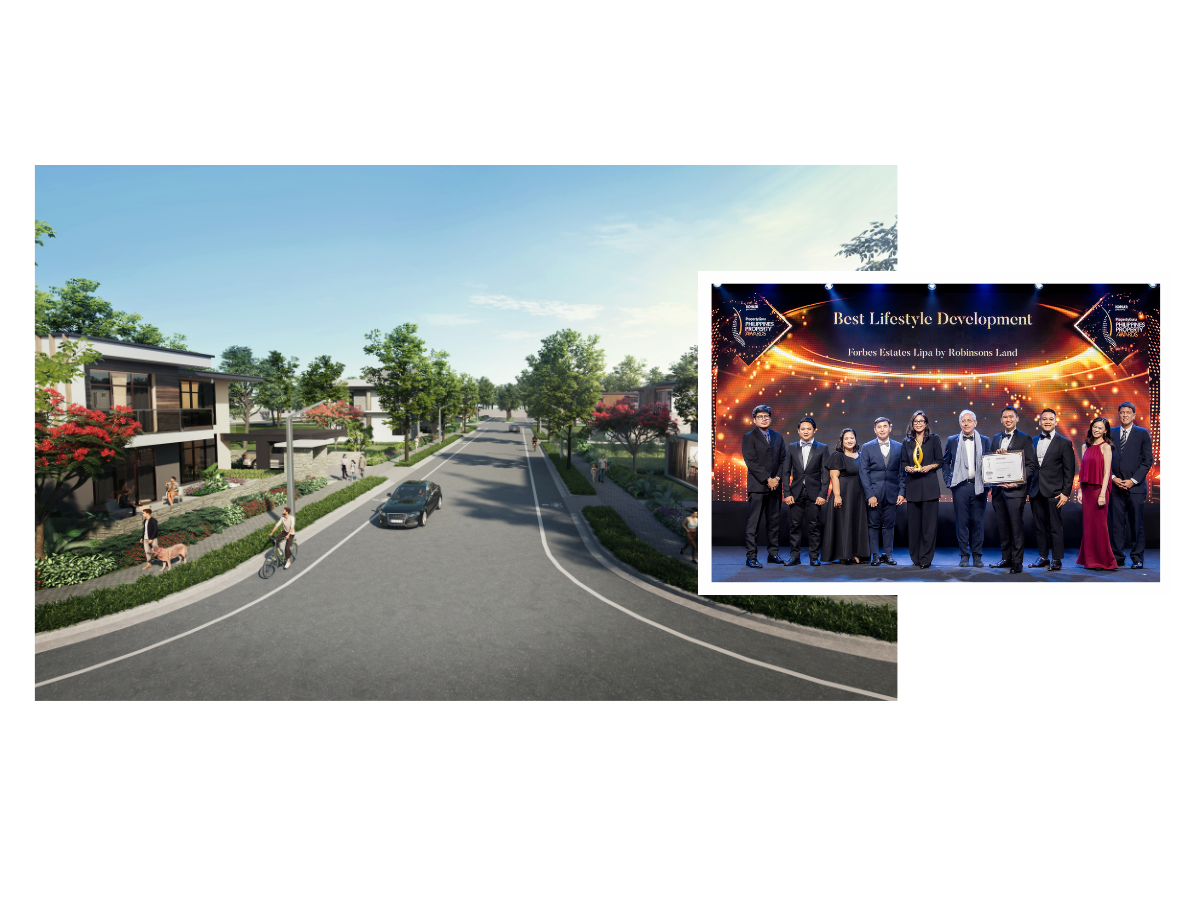 Forbes Estates Lipa as Best Lifestyle Development
Open spaces were prioritized to provide ample space for movement without encroaching in others' personal space, a concept much appreciated in a post-pandemic world. With its 1-hectare clubhouse, low-density living of only 10 lots to a hectare, minimum average lot cuts of 500 square meters, and a generous spread of open spaces and amenities, residents can surely enjoy the outdoors and the sanctuary of their private homes.
Forbes Estates Lipa invites residents to reclaim time and savor life unhurried at their own pace. The gate's entryway is accessible through J.P. Laurel Highway, where the progressive City of Lipa provides clean and cool air as well as accessibility to daily essentials and places of leisure—S&R Lipa, Robinsons Place Lipa, Mount Malarayat Golf & Country Club, as well as places of worship. Amidst a city still in its infancy, the estate offers a suburban solace for setting down roots for decades to come.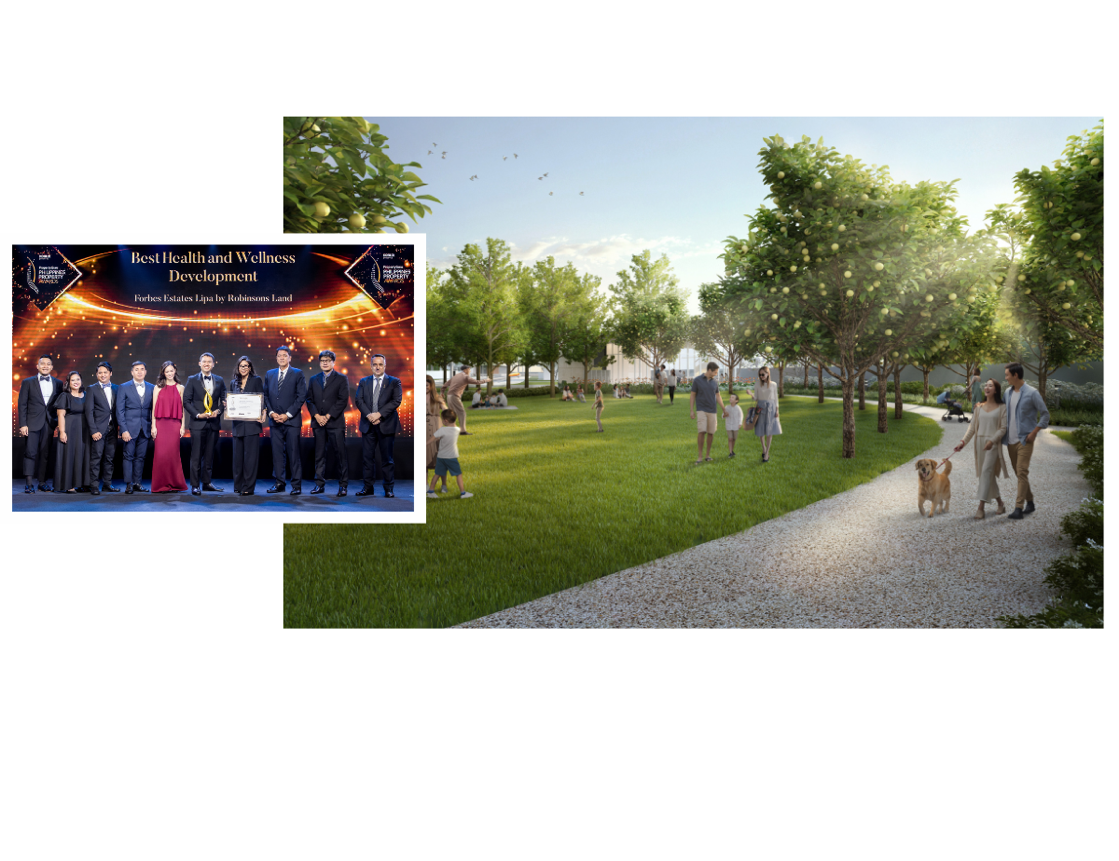 Forbes Estates Lipa as Best Health and Wellness Development
Robinsons Land redefines how residents are influenced by the spaces they live in. With 40% of Forbes Estates Lipa dedicated to open spaces, RLC harnesses nature's power to improve people physically, mentally, and emotionally. The estate celebrates the outdoors through its themed open spaces—the Picnic Grove, Tranquility Garden, Wellness Park, and Pet Park--- all dedicated to ensuring residents will experience a life well-lived.
BEST CO-WORKING SPACE AND OFFICE INTERIOR DESIGN
True to its DNA of offering convenient and highly flexible workspace solutions, work.able by Robinsons Land has adapted to the evolving demands of the market over the last couple of years. On top of these, every work.able space ensures consistent attention to quality, detail and customer-centricity—stand-out features that gave recognition to the work.able Exxa-Zeta Center in Bridgetowne Destination Estate as the Best Co-Working Space. The space incorporates unique and exciting office amenities and features that makes the work environment conducive for brainstorming and collaboration. It is the office solution for the better normal.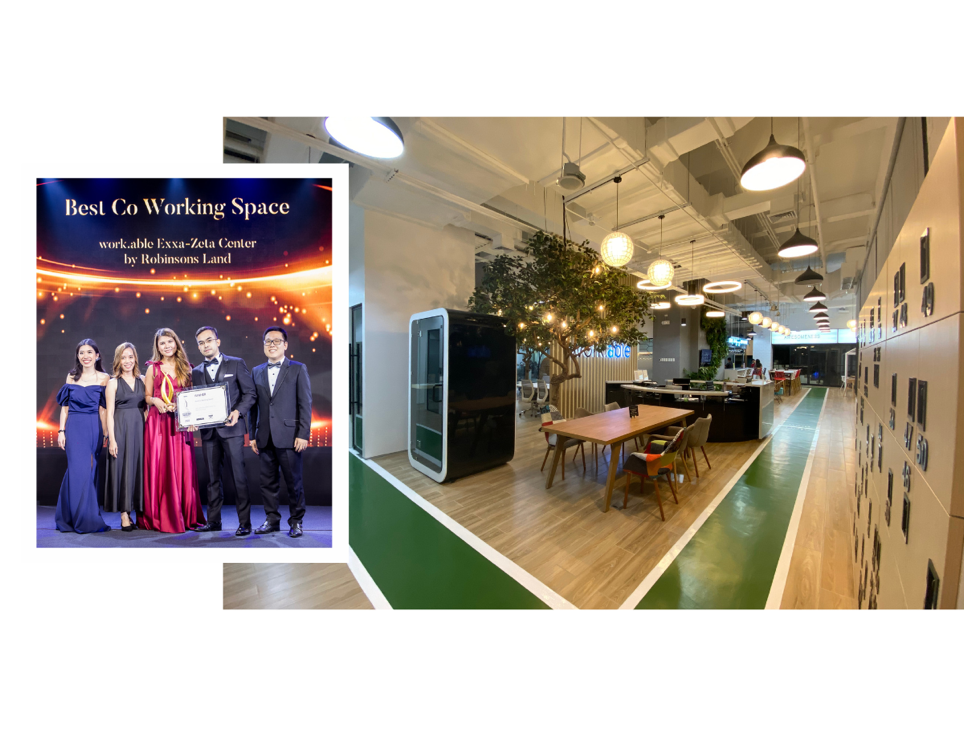 work.able Exxa-Zeta Center as Best Co-Working Space
work.able responds to the need for flexible workspace solutions and enables a plug-and-play concept for its clients. Apart from its fully-equipped amenities, relaxation and collaboration spaces, what sets it apart is that it provides a work environment that is ideal to move businesses forward, ensures hassle-free move-ins, flexible opex models, and offers a conducive workplace that inspires creativity. It offers various plans to choose from depending on the client's needs – Private Offices, Hot Desks, Dedicated Desks, Meeting Room and Townhall rentals. It also offers Virtual Office and Build-to-suit plans.
With a lush vertical garden that impresses upon entry, ergonomically designed couches in pastel hues, a fully equipped playground that has billiards, ping pong, and foosball, Robinsons Offices Headquarters, in Cyberscape Alpha, Ortigas achieved the prestige of copping the Best Office Interior Design.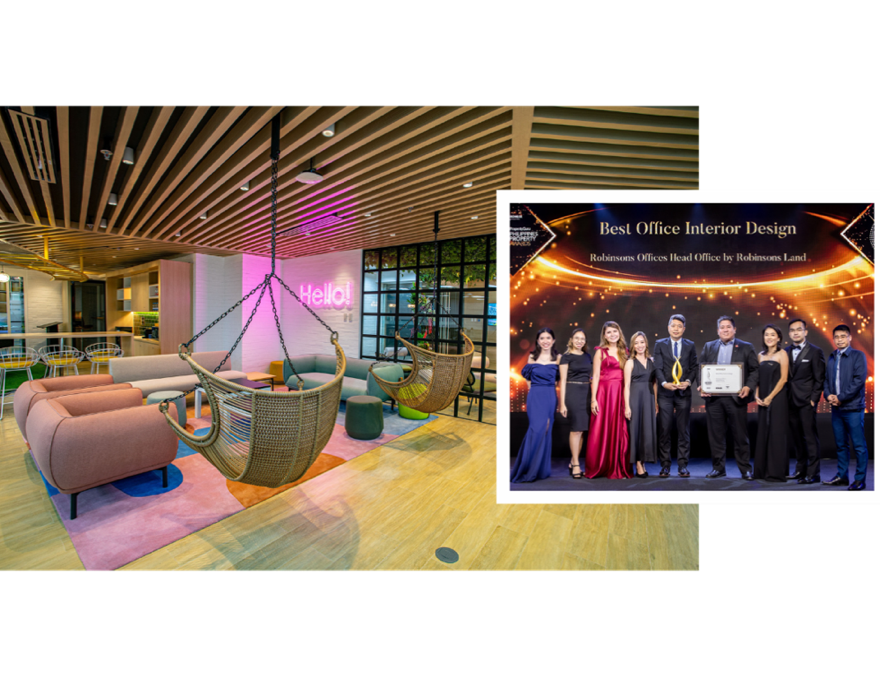 Robinsons Offices Head Office as Best Office Interior Design
Marching into the better normal with an open, spacious office layout, Robinsons Offices exhibits its priority to uphold the general wellbeing of those who truly matter—the Robinsons Offices employees that give life to an already vibrant space. This modern office seamlessly incorporates exterior elements i.e. greens, fun amenities, generous lighting, and brings them in so employees enjoy a conducive work environment that would serve as their home away from home. With its exciting features, employees are encouraged to report at the office and enjoy the office's cozy and modern ambiance.
BEST OPERATIONAL HOSPITALITY PORTFOLIO
While the pandemic proved to be extra challenging to the tourism and hospitality business, Robinsons Hotels & Resorts (RHR) remained resilient and continued to operate and expand and these efforts were rewarded as the group was cited for Highly Commended Best Operational Hospitality Portfolio.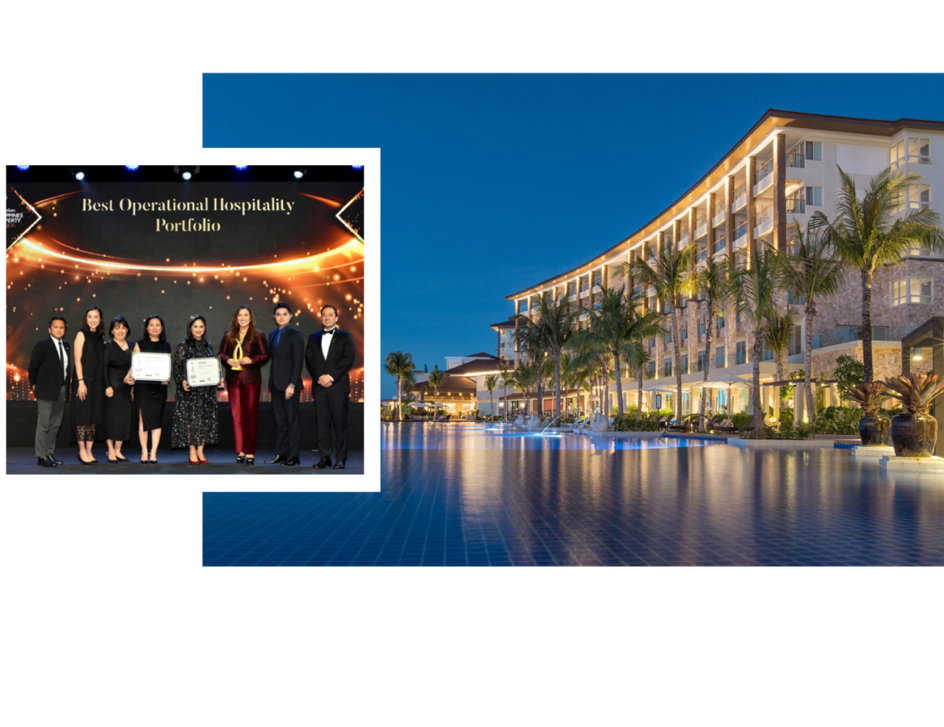 Robinsons Hotels and Resorts as Highly Commended Best Operational Hospitality Portfolio
RHR owns, develops, and operates hotels and resorts within Metro Manila, strategic metropolitan and urbanized locations, and targeted tourist destinations all around the Philippines. It now has more than 4,200 keys in 28 company-owned and franchised hotels consisting of 17 Go Hotels, 6 Summit Hotels and Resorts,1 Grand Summit,  3 international brands and 1 home-grown, five-star luxury brand. These brands have a total cumulative reach of 15 major cities and 12 regions around the Philippines, which is far beyond any existing hotel chain in the country.
At the forefront of its expansion phase, RHR has set the stage for its local and international brand of hotels to thrive and redefine Filipino hospitality. With the addition of this new class of hotel brands under its portfolio, RHR has expanded its reach, from its foothold pre- dominantly on value essential and mid-scale accommodations, to capture the upscale and luxury segments.
The Gold Standard in Real Estate Awards
Established in 2005, the PropertyGuru Asia Property Awards is the most respected and most sought-after real estate industry honors. It celebrates and rewards high-caliber work within the industry, encompassing property development, construction, architecture, interior design, and sustainable building practices. The series has expanded over the years to cover the region's dynamic property markets, including Australia, the Chinese markets, Japan, India, and Sri Lanka.
The 10th edition of the Awards in the Philippines is a great occasion to elevate the achievements of Filipino developers and designers to the global stage. "We are happy to mark a decade of the PropertyGuru Philippines Property Awards by celebrating and recognizing the developers and design practices that have exemplified Filipino excellence, ingenuity and creativity in their portfolios and projects," said Jules Kay, general manager of PropertyGuru Asia Property Awards and Events.